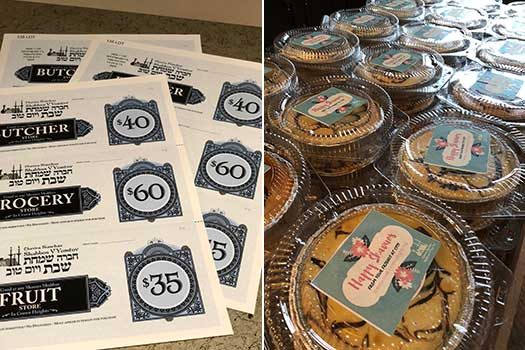 Chevra Simchas Shabbos V'Yom Tov is hand delivering cheesecakes to families throughout Crown Heights as part of an ongoing project to reach out to the needy families in our community.
"Many families simply can not afford basic Yom Tov needs, yet they are too embarrassed to ask their friends or family for help." says Benji Stock, Director of Chevra Simchas Shabbos V'Yom Tov, "We reach out to these families and make sure they are well taken care of!"
The delicious cheesecakes have been co-sponsored by Beigels Bakery and have been delivered with food vouchers or cash grants which will be used to buy food for Shabbos and Yom Tov giving families, single parents, home bound, and widows, the comfort knowing that they will have what they need.
Just as we stood together at Har Sinai, let's stand together as a community and make sure that no family is left hungry this Shavous.
Please open your hearts and wallets and donate now at www.cssy.org/shavous or mail your donations to CSSY 593 Montgomery St. Brooklyn, NY 11225.
CSSY asks that if you know of a family that is in need of assistance please contact them at info@cssy.org or call 718-774-5270