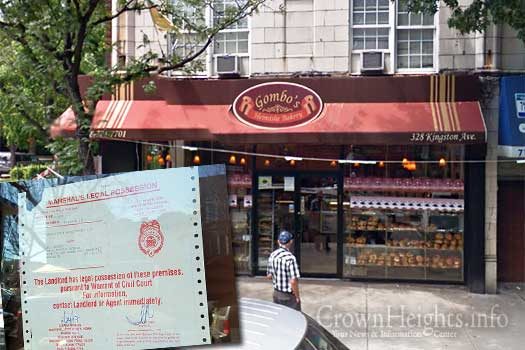 Customers seeking to buy Challahs for Shabbos were shocked to discover that the popular Gombo's Bakery on Kingston Avenue was closed, and a "Marshal's Legal Possession" notice was posted on the front door.
Open in Crown Heights since 2009, Gombo's has become famous for their Challas, cakes and doughnuts, all of which are baked on premises, and is a frequent Erev Shabbos destination for many residents.
However, this Friday prospective customers were greeted with a closed door and a marshal's notice posted instead.
With Friday's weather unseasonably warm and sunny, neighboring business Sweet Expressions 'took Gombo's in' to their courtyard, where they were able to offer Challahs and cakes that were already baked for sale.
CrownHeights.info reached out to Gombo's owner Levi Gombo, who would only say "we are open in the yard of Sweet Expressions near Union Street for now, and hope to have this resolved in the very near future, and we will keep you updated."
Sources have indicated to us that a dispute over control of this property – which has long been the subject of contention – is at the heart of the issue, with Gombo's being third party that is caught in the middle.
Sands Point Associates LLC, the entity which evicted Gombo's, did not return our request for comment.