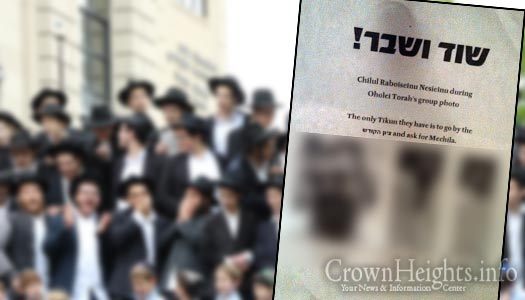 This morning, residents of Crown Heights left their homes to find that during the night "Pashkvils" (anonymous leaflets) had been placed in the windshields of cars all over the neighborhood. The leaflets were placed by several students of Oholei Torah Mesivta, who were protesting a supposed "slight" to the Rebbe's "honor" during the school's group portrait that took place Wednesday.
During the photographing of the portrait, several students of the Mesivta attempted to 'sabotage' the photo by sneakily raising a banner with a divisive slogan on it, hoping to have it included in the official portrait. The Yeshiva administrators, as well as the photographers, noticed this childish gesture and instructed the students to put the banner away.
A short while later, displaying tremendous chutzpah and immaturity, the students raised the banner a second time as the photograph was being taken. This time, the banner was removed from the students, and the issue was laid to rest.
Until last night, that is. These students were obviously very insulted that their scheme at nurturing division and Machlokes was unsuccessful. Over Thursday night, they spread leaflets all around the neighborhood with the photos and personal information of the Yeshiva administrators and photographers they deemed guilty of "disrespecting the Rebbe," demanding that they go to the Ohel and ask the Rebbe's forgiveness.
Sources confirmed with CrownHeights.info that those targeted by the leaflets did receive a number of hostile phone calls this morning, ostensibly from people no more mature than those who spent their night spreading the leaflets.
In a statement to CrownHeights.info Rabbi Sholom Rosenfeld, Executive Director of Oholei Torah, said that these Bochurim acted on their own, what they did was a big chutzpah and will be dealt with by the Yeshiva.
As an addendum to this article, we present an excerpt of a Sicha the Rebbe delivered in 1981 [the full Sicha can be found Here], in which he decried the involvement of Bochurim in the administrative affairs of their Yeshiva.
In very strong words, the Rebbe said that the students' job is to learn Torah, and that all other decisions about how the Yeshiva is run must be left to the Hanhola.