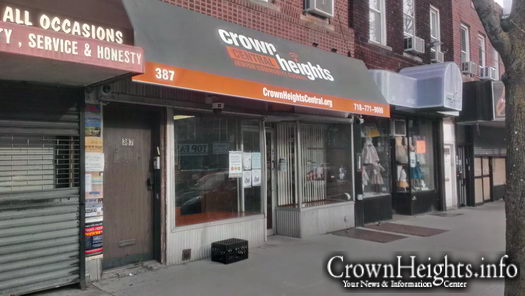 File photo: The offices of the CHJCC.
Yesterday, a busy Sunday afternoon on bustling Kingston Ave., hundreds of financially struggling members of the Crown Heights community lined up outside the offices of the Crown Heights Jewish Community Council to receive assistance for the coming Yomtov of Pesach.
As they stood waiting, some for hours, they bore discomfort and shame as thousands of passersby stared inquisitively at them, some even stopping and asking what they were standing in line for.
Following this occurrence, a heated discussion erupted on social media as several commenters decried the embarrassment and shame that the needy community members were put through by the community council.
One such community member, who wishes to remain anonymous, sent the following e-mail to the CrownHeights,info inbox describing what transpired:
Dear CrownHeights.info readers,
I thought I'd write this letter regarding the needy people of Crown Heights.
I'm one of them.
I had to wait on Kingston Avenue outside with the others; the line extending down the street, in the cold, for a couple of hours.  The humiliation; standing in the public view of the entire community and people asking "what's this line for?"
I had no choice but to tell them the truth – "to get food for Pesach."
The embarrassment; the blatant disregard that the community council has for the downtrodden of crown heights was humiliating. I felt as if I was taken back in time to olden-day Russia waiting in the bread lines.
So we're waiting; outside in the cold; elderly men and woman; mothers with small children; waiting; and for what?  We didn't know.
When I finally got to the front of the line after three and a half hours, there was one woman behind a computer taking down everyone's name and address. This one woman was serving several hundred families.  She then gave me a pink slip of paper with which to get the food on another day at another location.
My question is, why? Why did we all have to wait in line? Couldn't they have gotten all our names and numbers and entered them into the computer without us having to wait hours in the cold?
And to top it all off, the pink slip of paper which they gave us says you need a car to pick the food up. Look, if we need food to feed our families, we obviously don't have money for a car.
I'm writing this on behalf of all the needy families in Crown Heights. We greatly appreciate everything the community council does for us, however it should be done in a very different way: with respect, dignity and privacy for all members of the community.
I conclude this letter with the hope that the community's kindness will continue in a much more respectful and dignified manner.
Yours truly,
A humiliated Crown Heightser