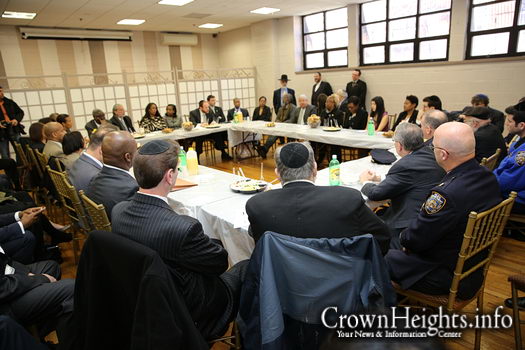 Several elected officials, educators, and community leaders gathered in the hall of Lubavitcher Yeshiva this morning for a breakfast and roundtable conversation about youth and race in Crown Heights, in response to several random attacks against Jewish residents that occurred over the past couple of months.
The turnout far exceeded expectations, and the seating was filled to capacity.
Among the attendees were: Outgoing Brooklyn Borough President Marty Markowitz; incoming Brooklyn Borough President Eric Adams; New York City Comptroller Scott Stringer; David Lobel of Governor Andrew Cuomo's office; Fred Kreizman of Mayor Michael Bloomberg's office; Assemblyman Dov Hikind; New York City Councilmembers Mathieu Eugene, Darlene Mealy, David Greenfield and Laurie Cumbo; Commanding Officer of Brooklyn South Patrol Borough Owen J. Monaghan; Commanding Officer of the 71st Precinct George Fitzgibbon; Captain Mark Magrone of the Hate Crimes Task Force; David Pollack and Bob Kaplan of the Jewish Community Relations Council; John Flateau, Vice President of Medgar Evers College; Richard Green of the Crown Heights Youth Collective; several representatives of the Crown Heights Jewish Community Council; Yaacov Behrman of the Jewish Future Alliance and Devorah Halberstam of the Jewish Children's Museum.
Borough President Marty Markowitz said, "Any violence on any member of our community will not be tolerated and the message must be delivered to our youth that they must respect and celebrate the diversity that they are fortunate to be a part of in the Crown Heights community. Furthermore, any youth that are apprehended will be subject to the full extent of the law as a motivation for them to show respect."
Eric Adams, Borough President-elect and State Senator for the 20th District that includes Crown Heights, echoed those feelings. "I am joining the call for community members of good will to come together and find solutions for the benefit of our kids."
Charlene Gayle, a business owner and resident of the Crown Heights community, opened the conversation and stressed the importance of coming together. "The mindset of the youths involved in these violent acts must be changed. Community engagement is imperative to accomplish this," she said.
Zaki Tamir, Chairman of the Crown Heights Jewish Community Council, said: "Most of the attacks have been by young people on young people. We need to find ways to get the message out to our youth that violence destroys a community, and that being involved in a bias attack can get a person in serious trouble and destroy their life."
Yaacov Behrman of the Jewish Future Alliance told CrownHeights.info that he commends the local Jewish schools – particularly Darchei Menachem – for successfully imparting with their students not to retaliate with any acts of violence against members of the African-American community, rather to let the police determine the appropriate response to the acts of violence.