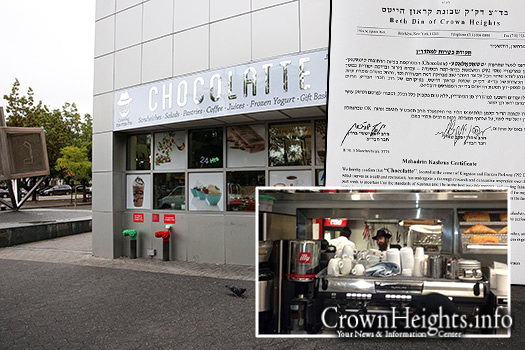 After losing their OK Hasgacha to alleged Kashrus violations, a new 'Hechsher' certificate appeared this morning in the window of Chocolatte, a Crown Heights cafe.
The certificate (see below), issued by R. Braun's faction of the Crown Heights Beis Din, raised many eyebrows, as it differed from the standard kashrus letter by straying into irrelevant and political issues.
At the end of the 'kashrus certificate', the OK is thanked for its "full cooperation" – a statement that the OK leadership called "inappropriate," and felt compelled to clarify.
In an interview with CrownHeights.info, Rabbi Kalman Weinfeld, coordinator of the Restaurant Kashrus Division of the OK, explained what led to the removal of the OK's Hashgacha, and to what extent his organization "cooperated with" those who illegitimately use the CHK symbol.
"I am taken aback by those who are slandering and saying that this is over money," he said.
"The OK was compelled to remove its Hechsher due the following problems: vegetables that were not properly checked, buying and using ingredients that weren't approved, and the unkept promise that there would always be a person who is Shomer Shabbos in the restaurant. We discovered that there where many times that, for hours at a time, there was no Shomer Shabbos in the establishment."
"Since we could no longer trust the word of the management, and in a meeting last week we required of them to hire a full-time Mashgiach which the OK trusts. We also told them that we require a one-time escrow payment to guarantee the salary of our Mashgiach. They refused to do this, saying they didn't have the money."
"One doesn't bite the hand that feeds him. If a Mashgiach is concerned that his paycheck will be withheld, he may hesitate to raise the alarm when he sees a problem. Only through the escrow payment can the OK guarantee his salary, and thus be certain that he will blow the whistle if anything is amiss, since without it a Mashgiach may succumb to the pressure of worrying about feeding his family, and may be inclined to overlook certain issues that require his attention."
"We did not see an alternative solution – we cannot send a Mashgiach to work if we cannot guarantee his salary – so we had no choice but to pull our Hashgacha," concluded Rabbi Weinfeld.
"It was these issues that I communicated to every single Rov, Shliach and Kashrus Organization that called me, which is what led [Braun] to declare that his certification was 'with our full cooperation.' This statement implies that we somehow endorse the new Hashgacha of the establishment, which is not true. I feel therefore that the statement was inappropriate," Rabbi Weinfeld concluded.
Owner of Chocolatte released the following statement on the new 'hechsher':
For our dear community.
I am writing this letter to clarify rumors and embrace understanding before judging.
1.our goal is to serve our community and bring quality without compromising on kosher
2.we did and still doing the best to keep highest kosher standards
3.I have been working for many years as a mashgiach for the ok and other kosher agencys (I will tell you a secret. Everything can happened with the mashgiach in the place)
If somebody really makpid they should find out who the mashgiach is and speak to him directly
4.we did have issues and worked together to fix those mistakes(nobody is perfect)the Ok was very helpful
But remember as an owner I can't be also a mashgiach
If there is anything I see it will be out in a blink of an eye
5.now one may say you see why we need mashgiach tmidi the answer is no
You need a good mashgiach that even when just nichnas veyotze can find if there is problems
Maybe its time for everybody to start finding out who mashgiach on their food(be ready for surprises)
In one incident I had to call the hashgacha to fire a mashgiach
Another incident customer found a bug after mashgiach checked the lettuce
Unless the owner is not trustworthy person, I can't be my own witness, But can anybody write with his name otherwise?
6.the ok which is a very trustworthy kosher organization
But is also large operation
Decided at some point that we should have a mashgiach tmidi
Which I agree is the best way to make sure there will be no mistakes
7.but remember this is the easy way just pay 100000 a year for 3 mashgichim (death penalty)
(And I fully understand their position)
We were told that the ok is not making money from us and have no time dealing with small business like ours
especially 24 hours and with our unique products
It takes a lot of work
(And rightfully they should make money for the service they provide)
8.for that reason we decided to get a smaller hashgacha who have more interest in helping us make sure there will be no issues and give them full access to cameras and keys
And have a mashgiach check vegetables and yotze venichnas during the day and night
9.we are unique store as no other  kosher restaurant is opened 24 hours in the whole USA
Therefor we have unique issues
10.we would like to thank the ok
For helping us until here
And also for advising the new hashgacha with our unique products
11.we fired spanish worker that repeatedly wasn't listening to hashgacha directions
We are giving rabbi braun access to the cameras without him asking for it
To ensure that there is no compromise in kashrut
For those who have concerns
The coffee is staying as good, with the political conversations even better
And would love to see you all
Sincerely
Levi Harel
And Chocolatte Family
P.s.the issues were solved a week ago and we had 3 mashgichim tmidim for couple days prior certificate removal