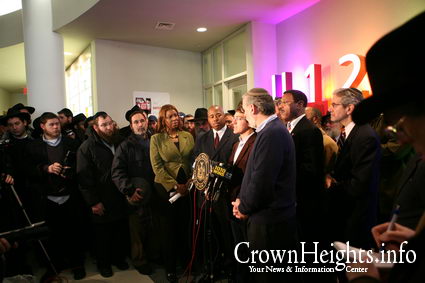 The Jewish Week
Shmuel Balkany recounts the attack at the press conference earlier this week.
Although law enforcement officials acknowledge that there has been a 25 percent spike in bias crimes in the city since September, Crown Heights community activists claim the figures would be higher if not for a police cover-up.
"The Jews in this community are not being adequately protected," charged Yissachardov "Barry" Sugar, president of the Jewish Leadership Council. "The police department has to [properly] characterize crimes and not play politics with my people. …

"There have been hate crimes against our people, and the police department characterizes them as robberies," Sugar said.
He and other Crown Heights leaders gathered Monday at the Jewish Children's Museum on Eastern Parkway to denounce the latest hate crime, which occurred Friday night, and to call for improved police protection.
"The police department is the greatest in the world, but there are serious problems in this area in terms of the department being responsive enough," said Assemblyman Dov Hikind (D-Brooklyn). "There is an inclination not to classify as anti-Semitism even that which is crystal clear anti-Semitism," he added. "I'm asking for an investigation of every incident in the last 18 months."
About a half-hour after the press conference, Police Commissioner Raymond Kelly arrived at the museum and met privately with about 20 community leaders in a sixth-floor conference room. For about an hour, Kelly sat in a leather chair at the head of a long table and took notes as community leaders aired their grievances.
Kelly later said it was a "frank and open discussion about the assault that took place Friday evening and police protection and resources in this area. Police in this area are doing a good job, but people always want more."
The press conference and Kelly's meeting were triggered by the attack Friday night by five teenagers on Shmuel Balkany, 16, as he walked to a friend's house on the Jewish side of Crown Heights.
"I was viciously beaten and clobbered all over my body," he said, adding that the attack lasted between three to five minutes and left him with a deep gash in his head.
Balkany said the teens yelled, "F— Jew. It's our neighborhood. We're going to kill you."
"I didn't understand what was happening, and once I did I yelled for help but no one was around," he added. "I had nothing in my pockets and I think they knew that."
Several black elected officials and community leaders also attended the press conference.
Letitia James, the area's Democratic councilwoman, told Balkany, "We're all praying for you and we hope this never happens again."
Eric Adams, the local Democratic state senator, pointed out that "this weekend we celebrated Dr. [Martin Luther] King's dream and we are not going to see it turn into a nightmare … through terrible acts. It will not be accepted; it will not be tolerated."
Adams said he and Hikind had agreed to establish an alliance to "build bonds and create an atmosphere where New Yorkers' voices of tolerance outdistance voices of hate. … We are not going to accept an increase in hate crime, particularly in this borough."
Another black leader, Karl Cohen, president of the 71st Police Precinct Community Council, said it is "time for the Jewish people to live comfortably in Crown Heights. These incidents must stop. We have to form our own patrol [because] we cannot leave it alone to the police department."
Kelly described his meeting with community leaders as "standard procedure for me." But Michael Miller, executive director of the Jewish Community Relations Council of New York, said Kelly requested the meeting earlier in the day when the two met at a ceremony honoring Martin Luther King Jr. at City Hall.
"The JCRC has had a concern about a pattern of increasing violent attacks against Jews, which we communicated to the police department," Miller said. "We felt so strongly about this and the impact of recent hate crimes directed against the Jewish community and the black community" that the top leadership of the JCRC and its president attended the press conference and meeting with Kelly.
"We walked out of the room with the sense that the police commissioner took everything we said to heart and that there would be follow-up in regard to attacks against the residents of Crown Heights," Miller added.
Before he left the room, Sugar said he handed Kelly a packet of material listing three crimes in Crown Heights that he said the police had failed to properly investigate:
A chasidic man walking home with a friend at 3 a.m. last July was approached by a black man who asked for a cigarette and money. The pair continued walking and the black man punched the man in the head. "F—Jew," the black man screamed. "I'm going to complete what Hitler started."
He assailant then fled.
A chasidic man was attacked with a metal object and robbed last August by two black men who knocked out five of his teeth before they fled. Sugar said the robbery appeared to be a byproduct of the assault because the assailant never asked for money.
A brick thrown from the roof of a building in Crown Heights crashed through the skylight of a private home. Three days later, a five-gallon can of tar was thrown off a roof and landed on a deck in the rear of someone's home. There were no injuries but community leaders said police did not appear to take the incidents seriously.
A similar complaint was voiced by Yacov Young, who said that about 90 minutes before Balkany was attacked, a group of black teenagers beat up two chasidic yeshiva students as they walked along the street. He said he heard the commotion and ran outside as he radioed for help. The assailants fled, and Young said he and the two victims followed them for several blocks until they stopped at a house.
Young said he then spotted a police car and asked for help but that the officer said that since the attack took place in a different precinct, he would have to file the complaint there.
"I said I had the victims of the attackers with me, and she just drove away," he said.
Hikind said that although he represents Borough Park and not Crown Heights, he became involved because residents of Crown Heights called him with complaints about the police.
"This is a serious situation," he said later. "I'm glad the police commissioner came. There is a lot of anger and resentment in the street."
One resident, Rochelle Dagan, said she is "really scared" by the rash of bias attacks.
"Hoodlums are walking around," she said. "It's happening lately too much. Something should be done. I can't walk the streets anymore."
Although the Police Department has announced that it plans to deploy some rookie police officers to beef up protection, the department did not say how many would be assigned.
And Kelly stressed that the department has "limited resources."
"I think they're deployed adequately and appropriately in this community," he said.
Rabbi Robert Kaplan, director of the JCRC's intergroup division, CAUSE-NY, said the fact that black and Jewish leaders were able to gather so quickly to denounce last Friday's attack "is a very important statement as to where we are today as opposed to 1991."
He was referring to the Crown Heights riots that lasted from Aug. 19-22 in which — following the accidental killing of a 7-year-old black boy by a car in the Lubavitcher rebbe's motorcade — black youths attacked chasidic Jews and their property. "It's proof that relationship-building is essential to meet these challenges," he said.
Richard Green, a black leader who is chief executive of the Crown Heights Youth Collective, a group that provides social services and programs for young people, said that blacks and Jews would always stand together because both are victims of crime.
And Rabbi Marc Schneier, president of the Foundation for Ethnic Understanding, a group that promotes racial tolerance, said he was pleased that the Rev. Al Sharpton also criticized the attack on Balkany.
"I welcomed his condemnation in light of his contrasting role in the Crown Heights riots of 1991," Rabbi Schneier said. "If I recall, at that time he referred to Jews as interlopers and his remarks fanned the flames during the riots. We've come a long way."