Matt Manochio – Daily Record
Rabbinical College of America Dean Moshe Herson speaks to the study group. 'Hopefully (students will get) a taste and hopefully anxiousness to proceed, to learn more about the wisdom and the mysteries of what the Torah is telling us,' he said.
MORRIS TWP, NJ — Jared Goldfarb, a 20-year-old Philadelphian who's attending Ohio State University, said his time at the school has been wonderful, so far.
He has made friends and has experienced the typical party atmosphere present at most colleges.

"I wanted some purpose," said Goldfarb during a recent phone interview from the Rabbinical College of America.
At the rabbinical college, Goldfarb is taking part in the 10-day Yeshiva Study Program and is living an existence void of modern amenities such as iPods, cell phones and televisions.
Goldfarb is just one of about 80 Jews who have traveled from hither and yon to reconnect or better understand the roots of their faith.
"They want to see what it's like to study Torah and live a life like they did in the days of the Bible," said Rabbi Boruch Hecht, who graduated from the college in 1999 and is the director of admissions. Hecht is helping to oversee the program.
About 80 men from several countries convened starting last week to partake in the 10-year-old program. The first day was Dec. 24, and the $180 program concludes on Jan. 3.
"This group of people, they're not traveling so far in distance, but in time, in a sense," Hecht said. "They're experiencing something unique of the past. At the college they relive standards in the days of Moses. People find this very refreshing."
Hecht said that with the overwhelming amount of negative news coverage and its bombardment on society, his students enjoys walling themselves off from the constant negative drumbeat.
"It's kind of an oasis that people are thirsting for, to be refreshed, just to try to put their minds and hearts and souls together," he said.
Victor Shikhman, 25, of Milwaukee said he originally heard about the program from a rabbi in his hometown.
"It's been kind of a blitz of classes and information," he said. "It's definitely a very intense experience, about eight or nine hours of study every day."
Shikhman said one of the things he hopes to accomplish — or at least better understand — is reading Hebrew without the vowels.
"Generally, the way that it's written in the Jewish book, the Old Book (was) written without vowels," he said. "The way you insert the vowels can insert different meanings."
Shikhman said his larger purpose for attending the course was to become more spiritual.
"What I really came here for was to become more substantive," he said. "I think in daily life we're bombarded with so much information from the secular world we tend to lose our spiritual side. What I really wanted to do was just remove some layers to become more spiritually in tune and more sensitive in daily life … and my observance as a Jew."
Across the world
Rabbi Moshe Herson, dean of the Rabbinical College, said the program attracts both students and non-students from across the nation and the world.
For instance, Yisroel Yehuda Weltman, 51, of Sugar Land, Texas, is a lawyer, and enrolled on a promise made to his 19-year-old daughter.
"I always knew about and been involved for seven years in Chabad," he said. "I know a lot of young adults and kids in Houston who come to this."
Weltman said he would make a resolution every year on his birthday to increase his spirituality.
"So every year I would make a resolution to come to Morristown, but I would never do it," he said. He added that this year his daughter convinced him that it was time to resolve and carry out his resolution.
Weltman said he is fascinated by the book of Tanya — "it's the inner mystical aspects of the Torah," he said. "It's brought down to the level that the average Jewish person can understand, to refine our souls to make us the best Jewish person we can be."
Herson said the 10 days are a time when students can focus on the less mundane and the more meaningful aspects of life.
"It's to give them a taste of the wisdom of the Torah," Herson said. "Hopefully a taste and hopefully anxiousness to proceed, to learn more about the wisdom and the mysteries of what the Torah is telling us, which is eternal, actually. It's relevant today as it was at that time."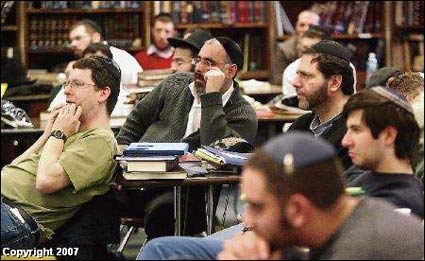 The Rabbinical College of America's Yeshiva Study Program aims to help students lead a simpler existence.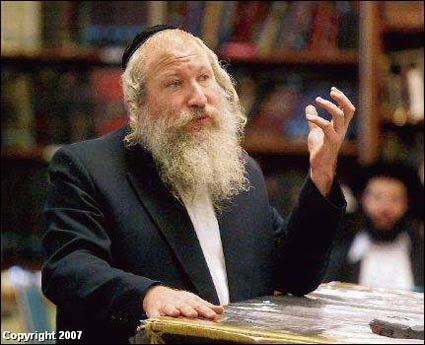 Rabbi Aron Gancz was the main speaker at the Rabbinical College of America's 10-day Yeshiva Study Program on the Morris Township campus.