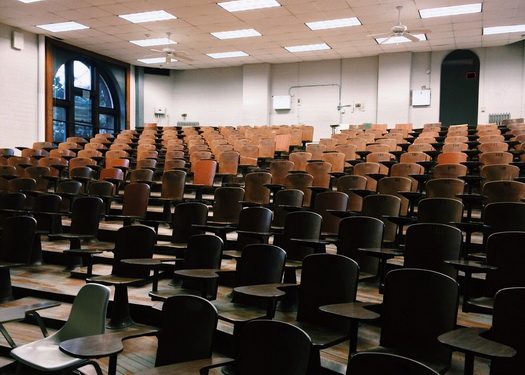 by Rabbi Sholom DovBer Avtzon
As we contemplate our response to the "laws" that were recently passed in New York, Virginia and elsewhere I thought it appropriate to relate the following story, which I recently heard from Rabbi Nissim Mangel sheyichye. It took place in the late 60's or early 70's. He related:
In those years I often accepted requests from various institutions including prestigious universities to give a lecture. Being that the Rebbe was aware of this arrangement, I didn't inform him of every invitation and request which I received and accepted.
One day I was contacted by the chairman of the department of Jewish Philosophy of NYU – a prestigious university in Manhattan, with the request that I give a lecture. A date and topic was agreed upon and the proper publicity was made. For some reason the chair decided to invite the dean of the university, as well as various religious dignitaries.
A few weeks before I was to give that speech, I had a yechidus with the Rebbe. Among the points I mentioned was the speech I was going to be giving.
The Rebbe inquired if the scheduled venue had separate sitting or was it mixed seating. I replied, it would be mixed. The Rebbe instructed me not to give the speech.
After the yechidus, I called up the chairman and informed him that I am a follower of the Lubavitcher Rebbe and the Rebbe instructed me not to give this lecture, so although I agreed to it, I must back out.
Understandably he was quite upset and inquired about the entire conversation. I informed him of the Rebbe's question about the seating arrangement. However, being that I agreed to speak, I felt bad for his predicament and offered to arrange for him, a yechidus with the Rebbe, where he can ask him.
He angrily declared, The Rebbe is a fanatic. He is so old fashion. We have made tremendous progress in equality and decency and I refuse to speak to him or anyone with those outdated beliefs. Women are not second class and don't have to be segregated. He continued, however, being that I sent out invitations and the dean of the university and other dignitaries, are planning on attending. So can you please write your speech down and I will say you couldn't attend, but you sent in your address.
I agreed to this request and wrote it up, and after receiving it, he called me to say, he was extremely pleased with it.
He then requested that I reconsider my decision, as he believes that it would have an everlasting impact on the attendees if I deliver it in person, which in turn would influence them to help in various Jewish causes. I thanked him for his kind words, but I pointed out that as a chossid I cannot go against the instructions of the Rebbe. I concluded, but if you want, you can plead your case to him.
To my surprise this time he said he agreed and a time was arranged.
We waited in the office of the mazkirus and at the arranged time, we stood outside the Rebbe's room. When he entered and saw the Rebbe he froze, and I had to literally help him walk to the chair in front of the Rebbe's desk and help him sit down.
After asking the Rebbe to allow me to give the lecture and explaining the tremendous benefit it would create, as many distinguished and influential people will be attending, the Rebbe inquired, "In what topic did you request Rabbi Mangel to talk about?
He replied, on Jewish philosophy.
The Rebbe replied, for your participants, it would be much more appropriate to talk about the seven Noachide laws.
The chairman became so upset, he burst out and stated, "The seven Noachide laws are so outdated. Society has made tremendous progress. We are past and better than that!"
The Rebbe gently replied, in society nowadays they eat lobster and crab. Do you have any inclination on how they are prepared? They take a live fish and throw it into a boiling pot of water and cook it alive. That is an extremely achzurious (barbaric) act! And that is called progress?!
The chairman was visibly shaken by this reply, he had no answer and respectfully left the Rebbe's room.
Once we were outside, he told me:
I have met with numerous presidents and prime ministers. I met leaders of various religious persuasions, but I never felt incapacitated by fear as I did when I gazed upon him as I entered his room. Now, the Rabbi is a religious Jew, so I can correctly assume he doesn't eat those fish. However, I am not observant and yes I eat and enjoy them. I never thought about the way they are cooked, and now I see he is correct, that is truly barbaric – that indeed demonstrates that we fall short in the progress we pride ourselves in.
I have to take back my argument about him being a fanatic and old fashion and we are making progress.
Rabbi Mangel then added the following thought. Evidently the Rebbe wanted to help this Jew do teshuva, and hear and see the Torah from a different vantage point. That is why he instructed me not to give that lecture, in order that the chairman comes for a yechidus and hears this. As shortly afterwards the Rebbe told me I should be successful in my lectures at Universities.
The reason I am posting this story is; let us realize that infanticide is not progress and cultured, it is barbaric. The path and ways of the Torah are sweet and uplifting, while the other path leads to the opposite extreme, harmful for all humanity.
Rabbi Avtzon is a veteran mechanech and the author of numerous books on the Rebbeim and their chassidim. He is available to farbreng in your community and can be contacted at avtzonbooks@gmail.com