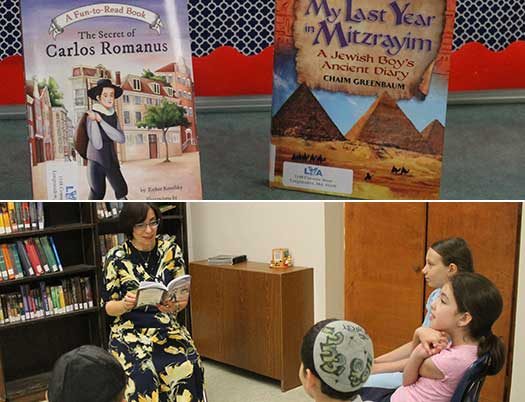 Massachusetts Shlucha, Mrs. Esther Kosofsky, published a book titled "The Secret of Carlos Romanus" aimed at you readers and is inspired by the Jewish values her father Rabbi Dovid Edelman OBM worked tirelessly to instill in his community.
The Secret of Carlos Romanus is filled with plot twists and adventure that will keep young readers turning pages. It is historical fiction that makes history come to life and will be a welcome addition in all libraries.
The Secret of Carlos Romanus is that and much more. Written by Esther Kosofsky, a Springfield native, the book not only brings history to life, but the book has a strong connection to Esther's father, Rabbi Dovid Edelman of blessed memory, who dedicated over 65 years of his life as Shliach of the Rebbe to the Jewish community of Western Massachusetts.
The book itself instills the Jewish values that Rabbi Edelman worked tirelessly for in his community. Rabbi Edelman was dean of Lubavitcher Yeshiva Academy (LYA) in Longmeadow, MA and took special pride in the education of the students.
The Secret of Carlos Romanus is based upon a story Esther's father Rabbi Edelman told when Esther and her siblings were young and would sit together around the Passover table.
"The Passover season was an especially busy time in our household", remarked Esther. In addition to the holiday preparations, my father would travel all over Western Massachusetts delivering shmura matzo to families for their Passover seder."
"Now thinking back it is so meaningful to me that my father took the time to share this amazing story with my siblings and me, while he dedicated the same time to communal life."
Esther's dream was to put this story on paper as a legacy to her father and a way to inspire the young generation about Judaism. The Secret of Carlos Romanus is published by Hachai Publishing Incorporated and is Esther Kosofsky's first published book.
"As an educator, I believe that we must reach our students through many different models," remarked Esther. "In writing this book based on a story my father told me I have combined my love of teaching, my father's values and an education tool."
The Secret of Carlos Romanus is set in the 17th century and takes readers through Spain and Amsterdam. The adventurer, Moshe Levi is full of hope and excitement as he sets sail from Amsterdam on his very first business trip. His father is gone, and it's up to this hardworking boy to support his mother and his two younger siblings.
When Moshe unexpectedly finds himself in Spain, a country in which Jews must pretend to be like everyone else, the young boy must rely on his wits and his bravery. Will he find a Passover Seder in this dangerous place? Is the wealthiest landowner in town, Carlos Romanus, a friend or an enemy… and will Moshe discover his secret?
"On his adventure Moshe Levi is able to instill Jewish values of kindness and concern to all that he meets," remarked Esther. "This is also how my father lived his life."
"I am excited about the many ways that The Secret of Carlos Romanus may be used in the classroom. The fast paced adventure is a great read-aloud book in lower elementary classes and historical novel to use as a class trade book or individual book report in upper elementary classes," said Esther.
"I am gratified by the positive feedback I have received so far about the book, I hope that many children will enjoy the adventure and the underlying message of faith and hope," she added.
Esther (Edelman) Kosofsky is a native of Western MA and is a graduate of Beth Rivkah High School and Teachers Seminary in Brooklyn, NY. Esther, a lifelong Chabad emissary in Western Massachusetts, was a teacher for over fifteen years at (LYA) and now holds a position in the school's administration. She is the past director of the Resource Center for Jewish Education, a program of the Harold Grinspoon Foundation. Esther is an experienced public speaker, writer for Chabad.org, and adult educator. She is co-director of Chabad Women's Circle in Western MA and gives weekly classes for women.
Esther and her husband, Rabbi Noach Kosofsky, are the proud parents of nine children and are very much enjoying being grandparents.