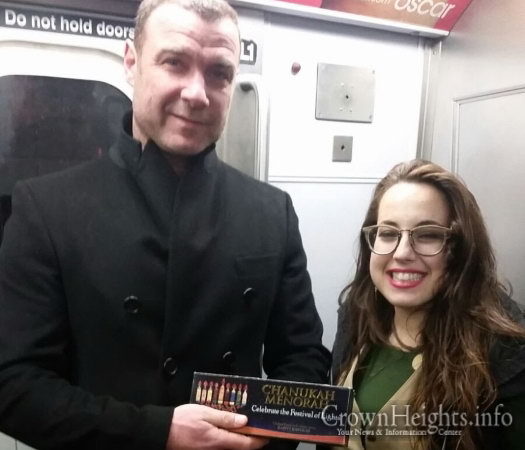 In the above photo, Boonya Laskey, a Lubavitcher Young Woman, can be seen giving a Menorah to Hollywood Star Liev Schreiber amid a chance encounter on the New York City Subway during Chanukah. But this is only half the story. Many years ago, Schreiber himself was a student of Boonya's father, Rabbi Aryeh Laskey, who arranged for him to have an Aliyah with the Rebbe in 770 for his Bar Mitzvah!
Relates Rabbi Aryeh Lasky:
Unfortunately in the old days we didn't all carry cameras in our pockets, so it's all in my memory. It was spring 1976, when late on Eruv Shabbos, waiting at a traffic light in Manhattan, I was on a Mitzvah Tank — myself and Rabbi Yossi (ben R' Yitzchak) Groner – and jumped out when we saw a tall elegant young mother wearing a long dress with her "little girl" with very long hair.
Yossi spoke to the mother and I ran over to the little girl with a Shabbos "Neshek" kit and said "Shabbos candles are very nice for girls to light!" The 8-year-old child replied back with a strong shout: "I'm a boy!!!" So began my relationship with the now-famous actor Isaac Liev Schreiber, now 50.
His mother was very happy for me to meet and bring her son to 770 and the Rebbe. But whenever I would call her son with the Hebrew name Yitzchak, she would correct me that we should call him "Huggie" (his nickname).
Many times I brought him to the Rebbe during Released Time programs. I remember going by the Rebbe's room and Isaac received coins from the Rebbe (maybe chanuka gelt?). In the hallway wearing his yarmuke over his long flowing hair, a Chassid said to us "when is the upsherin?!"
I remember visiting him and his mother in their Lower East Side apartment that had no electricity and no hot water. That summer I got him into Camp Gan Israel in Parksville for a week. This experience is what he has said he remembers really fondly. Maybe someone out there was in Parksville in the summer of 1976 (5736) and either remembers the kid with the long hair, or better yet has any photos from that summer with him in them.
Two or three years later, I remember going to visit Isaac in an Ashram near Hartford, Conneticut. I contacted Rabbi Yossi Gopin, and he drove us to the Ashram where we met Isaac and his spiritual personal guru/teacher, who also was Jewish, and this teacher met up many times with Rabbi Gopin after this meeting.
But as the years went by and I worked diligently to "graduate" from the baal teshuvah yeshiva of Hadar Hatorah and be accepted into Tomchei Temimim of Morristown (thanks to Rabbi Shmuel Heber), I lost all contact with Isaac.
Then I remember one day learning in 770 when some bachur comes over to me and says he met this very articulate 13-year-old in Manhattan who said that he has a Chassidic big brother Aryeh Laskey, and gave me a telephone number of his grandfather, Mr. Alex Milgram. I clearly remember meeting his grandfather, a strong Zionist but I guess not very religious, who was strongly against his grandson having a Bar Mitzvah. He very emphatically kept telling me "no Bar Mitzvah! no Bar Mitzvah for my grandson!" So I suggested "maybe instead of a Bar Mitzvah, maybe you would approve of just honoring your grandson by calling him up to the Torah with the Lubavitcher Rebbe?" "Oh sure yes that would be really nice," he answered me, much to my surprise!
So a few days later Rabbi Meir Harlig told us which day to come to 770, and Isaac and grandfather came to the Rebbe's Krias Hatorah, where he was called up for his Aliyah before the Rebbe came up for Shlishi. I had cautioned everyone there not to say any mention of a Bar Mitzvah, but we did make him a beautiful L'chaim for the great honor to be called up to the Torah by the Rebbe!
As the bachurim lifted him on their shoulders to dance around, the grandfather was crying, as he was so touched by the experience. But remember, it wasn't a Bar Mitzvah! so I foolishly made sure not to take any photos.
This is what I remember. Then about five years ago I heard on the radio a description of the childhood of the actor Liev Schreiber and thought: could that be the boy Isaac I had known? So when I looked him up and saw that his first name was Isaac, I realized that it must be the same person. Then when he was honored to speak at a Chabad Children of Chernobyl dinner, Rabbi Shimon Raichik excitedly called me to tell me "Liev Schreiber mentioned your name in his speech!"