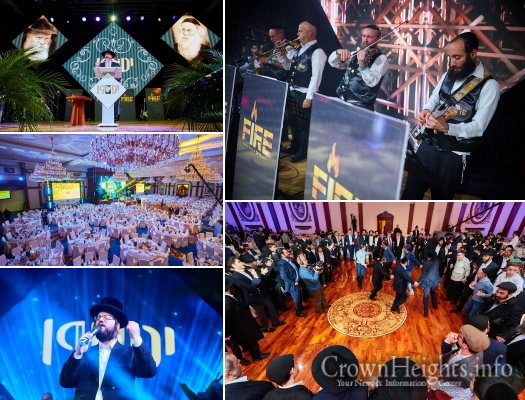 Hundreds of Moscow Jews from all backgrounds came to participate in the large, central event that marked 205 years since the arrest and liberation of the Alter Rebbe and the spreading of the wellsprings of Chabad Chassidus.
During the seventy years of Communism and wars, Russian Yiddishkeit was stifled, and nearly erased. It is only thanks to our Rebbeim that is has not only survived, but is thriving during the past few decades. Today, hundreds of our Rebbe's shluchim are spread out over the vast country;  in Siberia, and all the way to the border with China. In Moscow alone there are over one hundred shluchim working under Chief Rabbi of Russia, Berel Lazar, with new Chabad Houses opening their doors in various neighborhoods throughout the capital city.
It is no wonder that an important date such as Yud Tes Kislev is marked yearly with an event of such a grand scale. Hundreds of Jews join together in great joy and unity for a Chassidic farbrengen, feeling truly grateful to be part of this day about which the Alter Rebbe promises "Those who will partake in my joy, I will bring them out from their straits into the broadness".
The evening was emceed by Rabbi Boruch Gorin, interwoven with videos of the Rebbe speaking. The large crowd was mesmerized for hours by the program that was meticulously planned for them by the Gabbais of the Marina Roscha shul. It included personal stories of people whose lives were completely changed by learning Chassidus, as well as the activities of various communities and Chabad Houses dedicated to spreading the wellsprings of Chassidus.
Shliach Rabbi Mordechai  Weisberg, who oversees the bustling building of the Moscow Jewish Community Center in Marina Roscha, warmly introduced  the 32 Chabad Houses and communities throughout Moscow. Tehillim was led by the Tzaddik from Leningrad, Rabbi Yitzchok Kogan and philanthropist Reb David Aminov.
The keynote address was given by Rabbi Berel Lazar, who eloquently wove together quotes from Chazal, as well as stories about Russian Jewry, while emphasizing the Chassidic approach to seeing Hashgacha Pratis in every single moment in our lives.
Rabbi Alexander Boroda, President of the Federation of Jewish Communities in Russia underscored the importance of continuous growth and the necessity to open even more Chabad Houses throughout the city.
Reb Alexander Lebedev, as well as the musical Brill brothers, spoke about how learning Chassidus transormed their lives completely.
A pidyon haben was done by Rabbi Yitzchok Kogan, redeeming five firstborn Jews who had recently undergone a bris.
One of the community's sponsors got up and emotionally declared that he would like to donate the 33rd Chabad House to Moscow's Jews.
Bentching was led by philanthropist David Rozenson.
After lots of singing and dancing, led by the Malchus Chior, Singer  Yoni Shlomo, and the Fire Orchestra, the guests sat down to a real hearty farbrengen which lasted until the wee hours of the morning.
Photos by Levi Nazarov