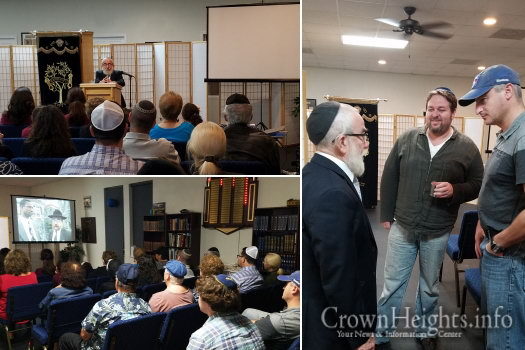 Speaking to a rapt audience at Chabad of West Pasco, Florida, Reb Yisroel Shemtov, a veteran and activist member of the Crown Heights community, recounted the days when he would patrol the crime-ridden streets of the neighborhood, which earned him the nickname "Red Devil."
Reb Yisroel spoke about Ahavas Yisroel, and about putting others ahead of oneself.
He said that after he got a Bracha from the Rebbe about his patrolling activities, he had no fear of anything. He was arrested 19 times with zero convictions, and many miracles happened to him over the years.
He spoke to the people about doing more good deeds, and the crowd was very moved by his story. Especially moving was the incident he recounted about when he saved an African-American woman from bleeding to death on the streets from severe gunshot wounds.
Following his presentation, a short film was shown about him and the Crown Heights community.