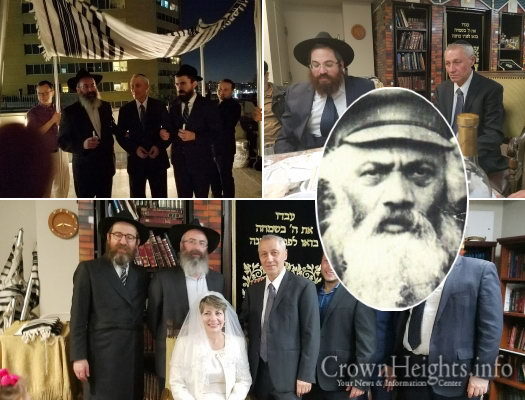 Last Thursday night, under a starry, moonlit sky, a reunion twenty years in the making came full circle in Rego Park, Queens.
Nearly twenty years ago, as a newly arrived Shliach to Rego Park, NY, Rabbi Eli Blokh was asked to conduct weekly, Friday night services at an adult day care facility catering to Russian-speaking Jews. One of the clients who regularly agreed to put on Tefillin was a sweet, Russian-speaking Jew by the name of Yacov Agroskin. Over the span of many subsequent visits, Rabbi Blokh and Yacov became friends, and Yacov introduced the Rabbi to his daughter and son-in-law, Victor and Nina (Nechama) Gaitshkhoki. With the years passing, Yacov's grandson, Ilya, became Bar Mitzvah with the Rabbi, and the family regularly attended the High Holiday services.
Intrigued by the unusual sounding  last name, Rabbi Blokh realized that if the G in the last name was substituted for an H (the soft letter H doesn't not have an equivalent in the russian alphabet, and is often replaced by a G) the last name is actually Hayitzchoki, the same last name as the legendary Mashpia, Reb Zalman Moshe Hayitzchoki from Nevel. And so it was. After some research, it turned out that Victor's father, Boris (DovBer, in his mid-90s and living in a nursing home in Brighton Beach), was the son of Dovid, brother of Reb Zalman Moshe.
For many years, Rabbi Blokh gently encouraged Victor and Nina to make a Chupah, and this year, on Yom Kippur, Nina said "yes! We're ready." Rabbi Blokh reached out to a close friend and Shliach in Kings Highway, Rabbi Zalman Moshe Drizin, to come and invite other descendants of his grandfather and namesake, Reb Zalman Moshe Hayitzchoki, to participate in this beautiful celebration.
Last Thursday night, Victor and Nechama, in the presence of their second cousins, members of the prominent Drizin family, got married according to Jewish law on the porch of the Chabad of Rego Park.
Victor and Nina were led to the Chupa by Rabbi Chaim Drizin and Rabbi Yossi Mendelson, Rabbi of Congregation Machane Chodosh and Shliach in the neighborhood.
Rabbi Zalman Moshe Drizin shared the incredible story of the original Rabbi Yitzchok, father of Rashi – after whom the family bears their name — and his tremendous act of self-sacrifice. Also in attendance was Rabbi Moshe Rubin, historian and chronicler of the Drizin family, as well as members of the Chabad of Rego Park community.