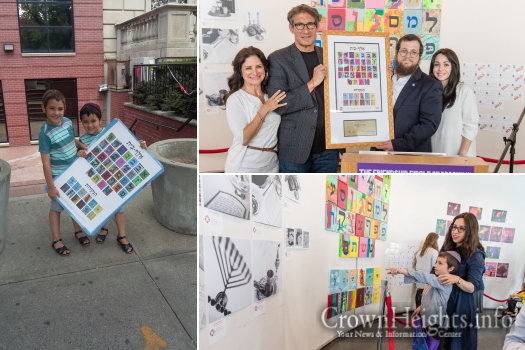 "If you know Aleph, teach Aleph."  Each and every one of us has what to offer, has something to contribute, no matter what they may look or act like, no matter what their ability or capability may be. Now, thanks to the members of the Friendship Circle, the children in our community can feel included in this special mitzvah.  They too can be included in teaching "Aleph" to others.
Eleven local preschools received a gorgeous new addition to their classrooms for the start of this school year.  A generous donor has sponsored new Aleph-Beis posters to add to each classroom.  However, these are not just any ordinary Aleph-Beis posters, these posters exhibit beautiful artwork created by the members of the Friendship Circle of Brooklyn.
At the 'Art of Friendship' event this past May, the Friendship Circle of Brooklyn displayed many pieces of artwork created by the participants. The Aleph Beis Collection was beautifully showcased among the many pieces of artwork, and then turned into a gorgeous poster.  Each of the canvases were created using a silk screen, thus ensuring each letter is beautifully exhibited.
These eye-catching Aleph Beis Charts are perfect for every child's bedroom, playroom or classroom.  They are now available for sale online.  Please visit fcbrooklyn.com/alephbeis or email hello@FCBrooklyn.com.