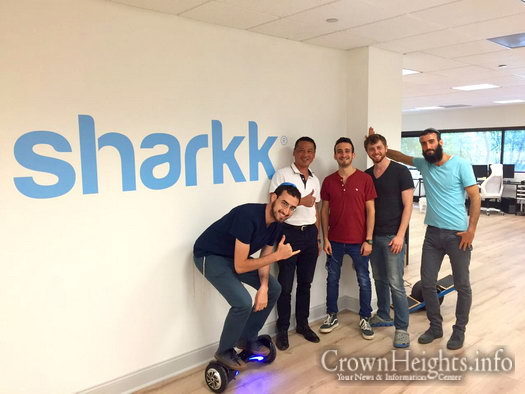 Left to right: Meir Shemtov, a Taiwanese business associate, CEO Dov Brafman, Dovi Vogel, Mendy Brafman
Could a responsible parent actually forget their child in an overheated car? Just mentioning it turns stomachs. The answer is: absolutely, and preventing it from happening is the mission of Angel, an intelligent and affordable car seat sensor recently launched by Sharkk, a company founded by young Lubavitcher entrepreneurs.
Angel is a patent‐pending, thin cushion sensor that fits snugly under the fabric of more than 200 tested car seat models. It works silently in the background and alerts caregivers on a phone app if a child is left in a car seat after the driver leaves. Angel is easy to set up and requires no maintenance.
"The idea is to be an integrated alert system that carmakers can begin to implement on their own," says Isaac Rubinstein, Chief Technology Officer for Sharkk, the New Jersey‐based company that is bringing Angel to market.
Rubinstein is the grandfather of two and a holder of multiple engineering patents.
Based on the excited reception in test markets, Rubinstein expects carmakers to make alert technology standard in future models. Still, he expects it to take a little time. "Customer demand is just gaining the needed momentum," he says, a phenomenon that will give hope to child safety advocates.
"How do we stop this tragedy? The first step is to accept that human memory is faulty and that loving and attentive parents can unintentionally leave their children in cars," says neuroscientist Dr. David Diamond. Many parents and caregivers are just coming to understand that fateful memory lapse, not negligence, is the overwhelming cause of such tragedies.
"We all like to believe that we are in control," says Dov Brafman, CEO of Sharkk. "But the fact is, our brains don't always do what our hearts wish they did."
Recognizing the critical need for this knowledge, Angel has made awareness a core part of its mission. The product's website (AngelSafety.org) invites parents to consider whether they could ever forget their child in a hot car. Visitors are then shown a basic visual of how our brains function, as well as the speed at which an air‐conditioned car can turn into a scorching deathtrap.
Sharkk's Creative Director Meir Shemtov sees Angel as a natural focus for a team well‐known for creating and bringing innovative and solution‐driven products to market. "We're less about glamorous reviews than groundbreaking results. It took us years to get here. This is a product that saves precious lives and we're so grateful for the experience and expertise on our team that allows us to create this solution."
The product team hopes to connect with customers and present a unified movement to lawmakers and carmakers. Angel is slated to be shipping to customers by September 2017.