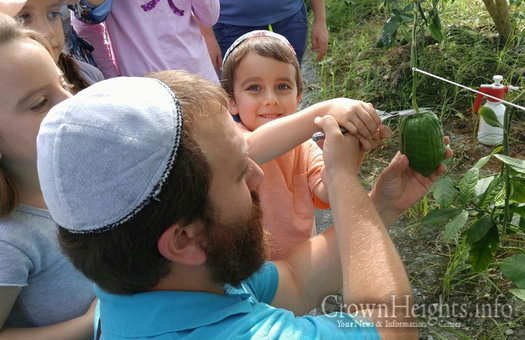 Leizer Rodal and family harvest esrogim in southern Italy.
Building on a longtime family tradition, one esrog vendor shares the history that brings him back to Calabria, Italy, year after year in order to provide great-quality Esrogim at unbeatable prices.
In a modest shop across the street from Empire Kosher supermarket, you will find one of the best kept secrets in Crown Heights – Esrogino, a one-of-a-kind store manned and created by Leizer Rodal, whose intimate connection with esrogim goes back three generations. From his grandfather Harav Yosef Rodal, who had near-death encounters with Mafiosi, to his father Harav Shmuel Rodal, who schlepped his family with him every summer to Calabria, the southern coast of Italy, so that he could be a mashghiach tmidi.
Today Leizer himself, having grown up spending every summer in Calabria, is not only fluent in the Italian language per se, but also with the culture and mindset of the farmers he works with.
Before you even walk into the store, there is a fun lulav and esrog poster cutout where you can take pictures to your heart's content, free of charge. Then as you enter, your senses are delighted by the classy and tasteful environment. The rich burgundy tablecloths and custom-made boxes which house the esrogim give the impression, to the inexperienced onlooker, that Esrogino may just be a high end jewelry store. And Indeed, the esrogim are treated just as such. Each box is labeled with the price so you know you can make your selection of the best esrog based on your price range.
Whether you have a particular esrog in mind, or you are just curious, Leizer will guide you with every detail of what makes an esrog mehudar and treats each esrog with loving care as he picked each one himself. Reminiscent of the farmer who knows each of his 43 cows by name, personality and age, one half-expects Leizer to have a name for each esrog that he displays. Shockingly, however, all this five-star royal treatment does not add to the cost of the esrog.
Leizer doesn't limit himself to only selling the Esrogim themselves but also the complete esrog experience: mini esrogim for the kids – while supplies last (he himself remembers as a boy the million-dollar feeling of having a "real" esrog), bottles of esrog liquor, and a selection of esrog-themed gifts.
Esrogino is located at 510 Empire Blvd., and is open Sunday-Thursday from 10:00am to 12:00am. Visit the Esrogino Facebook Page for more information.