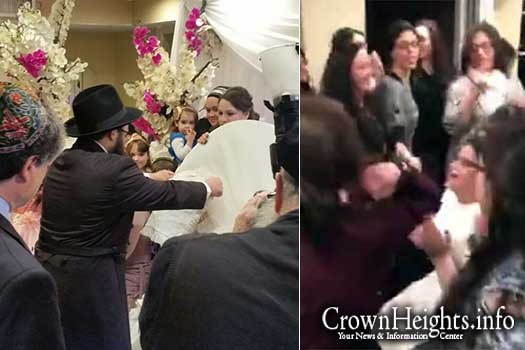 The Kallah was from far-off Chicago, the Chosson a student at Yeshivas Hadar Hatorah for Ba'alei Teshuvah. Most expected theirs to be a small wedding, with only a few family members and friends in attendance. Instead, the wedding hall was packed to capacity, and attendees said it was one of the most joyous weddings to take place in Crown Heights in years.
It all began at around 7:45am Wednesday morning with a post to the Facebook group 'Crown Heights Craigslist' by the Kallah, Mushka Sarah Cohen, inviting all members of the community to her wedding with Ariel Costanza, which she said would not have a lot of people in attendance.
Nearly 100 people responded to the post, wishing the young couple Mazal Tov, but that was only the beginning.
That evening, members of the Crown Heights community flocked to the wedding hall to bring joy to the Chosson and Kallah. The hall was filled to capacity, and the joyous atmosphere was overwhelming.
Rivky Perl, who attended along with a few friends, told CrownHeights.info that "it was inspiring to see the Crown Heights community come together to celebrate our fellow sister's wedding."
Devorah Benjamin, founder and director of KSCVK, which assisted with the wedding arrangements, posted today on Facebook: "Crown Heights, you are such a wonderful community. Hashem should bless you all with lots of Brochos."