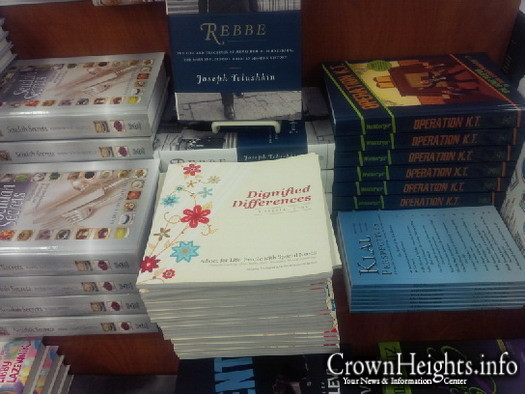 A new book on people with special needs, Dignified Differences: A Special Soul, is being hailed as a revolutionary book, the first of its kind by doctors, educators, directors of Friends Circles and family members.
When Chana Sharfstein learned that her daughter was autistic, she did not know how to respond. In 1964 the condition was virtually unknown, still in its infancy she was overwhelmed and unsure of how she would cope. Like at so many other junctions in her life, she turned to the Rebbe, who she credits with giving her the strength to persevere.
Sharfstein recalls how the Rebbe's guidance gave her the fortitude to continue. "The Rebbe instilled me with hope, an essential ingredient for the parent of a special-needs child. He inspired me to help Zlatie develop to her fullest potential. He gave me strength and courage to persevere," she writes.
The book is available at your local bookstore, HasidicArchives.com or Amazon.com.
Below is several examples of praise for the new book:
Rabbi Schneerson of blessed memory explained and elaborated as to our perspective should be in our work vis-à-vis Jewish children with developmental disabilities – namely that we should always be mindful that even the individual with the severest disabilities has the capacity to improve… I have no doubt that those who will read Dignified Differences will find much wisdom, inspiration and comfort.
Dr. Professor Robert Wilkes
Professor of Behavioral Sciences & Human Services at Kingsborough Community College
Pioneering advocate for people with special needs in the Jewish community
*
Dignified Differences: A Special Soul is a fantastic book. The layout, ease of reading, and exceptional teachings bring the message home. I have been quoting it and showing it to everyone I know since I started reading it.
Dr. Sarah Kranz-Ciment
Director Ruderman Chabad Inclusion Initiative
Director of Friendship Circle of Virginia
*
I can't thank you enough for the book "Dignified Differences". As I supervise student interns in the field of social work, I now have this wonderful book to use as a learning tool for students, and share with the staff at Cabrini. I will treasure the book.
Lois Cartica, LCSW, C-ASWCM
Program Director at Cabrini Eldercare of people with special needs
*
Dignified Differences is a special book about special people and their special caregivers.  It is a presentation by family members reflecting on their feelings about their relative with special needs, and how meaningful their lives became because of having them in their life.  The descriptions of their experiences are beautiful and loving, with a great deal of understanding of human beings who struggle to live and understand their place in a strange world.   It is an emotional  tribute to those family members who dedicated their lives trying to help in this effort, and to educate others as to their  struggle.
Helene Goldberg, MSCRC
Program Director at the Peninsula Counseling Center for people with special needs
*
The Rebbe teaches us all, parent of a special children, individuals who have special needs and the rest of us who think we don't, about the value of every life. The book offers insight as to how we must look at individual differences and needs as caring, nurturing human beings.
Rabbi Nochum Kaplan
Director of the education department of the Chabad-Lubavitch movement
*
The booklet is beautifully and skillfully produced. It is well illustrated with numerous pictures and drawings… It should be read by those professionals who are engaged in providing help to all of G-d's children. And if you are not a professional …read it, it will lift your spirit and you will come to comprehend how to accept, understand and love all children in this world.
Rabbi Dr. Ib Nathan Bamberger
Author of The Viking Jews
*
A beautiful compilation, the wisdom — priceless, the compassion — inspiring, the sensitivity — moving. The dignity of differences truly displayed! A magnificent job.
Rabbi Yosef Y. Jacobson
Director of Theyeshiva.net
*
It gives parents the strength to know that people with special needs are an important part of society. This book sheds light on how parents should strive to integrate and treat children with special needs like any other child. People are telling me that they learned to never be indifferent to a person with special needs from the book.
Rabbi Berel Majeski
Director of the Friendship Circle of Brooklyn
*
Chana Sharfstein and Dovid Zaklikowski did a magnificent job. Anyone who has anything to do with a handicapped person (and that is all of us) would do well to read this. The Rebbe's attitude is truly "special".
Rishe Deitsch
Editor of the Nshei Chabad Newsletter
*
Sharfstein and the others tell of their encounters with the Lubavitcher Rebbe, Rabbi Menachem Mendel Schneerson, who embraced these children with particular warmth and love, and a deep respect for the unique Divine gifts that he discerned in them.
Lubavitch.com
*
Illuminating, heartwarming and inspiring and recommend it as a must reading for anyone who wants to have a more comprehensive and updated understanding of "Special Needs Souls". The insights of the Lubavitcher Rebbe are fascinating… The memories family members share with the readers portray very real and insightful emotions and thoughts… Thank you for sharing with us. Anyone who reads this book will be a better, more compassionate person.
Brocha Chein
Grandmother of a child with special needs
*
As a proud uncle of a special needs child, I found this book enlightening and insightful.
Ezzie Schafran