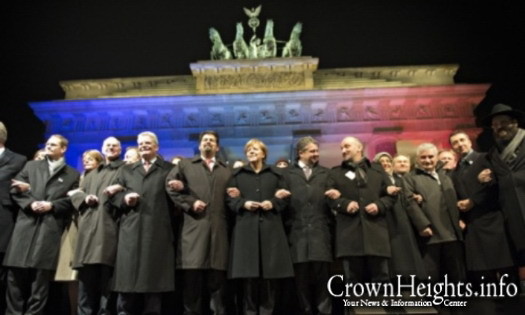 At a rally this week, around 5,000 people came to the iconic Brandenburger Gate in Berlin holding Charlie Hebdo cartoons, pencils and signs saying "Je suis Charlie." Among them was Rabbi Yehuda Teichtal, Chabad Emissary to Germany's capital.
High officials from the German government, Muslim groups and the representatives of different faiths gathered at the iconic landmark to promote peace and tolerance.
"We are all Germany, we want a strong Jewish life and will fight anti-Semitism" President Joachim Gauck declared in his speech. Chancellor Angela Merkel continued, saying that "xenophobia, racism, and extremism have no place in this country."
Rabbi Yehuda Teichtal – rabbi of the Jewish community of Berlin and director of Chabad activities there – was present on the stage with representatives of various religions, as well as Germany's president and chancellor.
The vice president of the Central Council of the Jews in Germany spoke to the assembled. Together with all the others who gathered on the stage, he locked arms to pose for a symbolic photograph, showing the unity of everyone against violations of democracy and tolerance.
The Jewish community in Berlin is steadily growing, with many young families strengthening their Jewish observance.