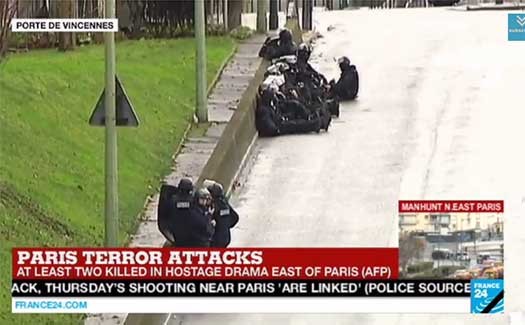 Two separate hostage situations are currently unfolding in France. The first is in central Paris in the heart of the Jewish community, where 5 hostages were reportedly taken inside a Kosher supermarket – Hyper Cacher. The lone hostage-taker is said to be wielding two AK-47 rifles, and is believed to be the gunman who killed a female police officer in Paris yesterday.
The second hostage situation is unfolding in in Dammartin-en-Goele, a city north of Paris, where the two brothers suspected in the Charlie Hebdo massacre have been cornered by French authorities and have taken one hostage.
According to a a report by JP updates, a Lubavitcher Chossid, an Orthodox Jewish woman and 11-month-old baby are among the hostages in the Kosher supermarket:
French media are reporting that the two hostage situations are in fact connected, as the hostage taker in the Kosher supermarket is an acquaintance of the two Charlie Hebdo attackers, and is demanding that authorities end their siege on the two brothers in exchange for the safety of his own hostages.
This is a developing story and will be continually updated
Live News Coverage from FRANCE24:

Live News Coverage from NBC News:

Face à #hypercasher à #saintmande pic.twitter.com/iYYr3NxanO

The scene outside a Paris grocery store where a suspected terrorist has taken hostages.

— david_dlr (@daviddlr) January 9, 2015
Huge Swat team presence at scene of latest shooting #paris pic.twitter.com/1p8CA0dI6n — James Longman (@JamesAALongman) January 9, 2015