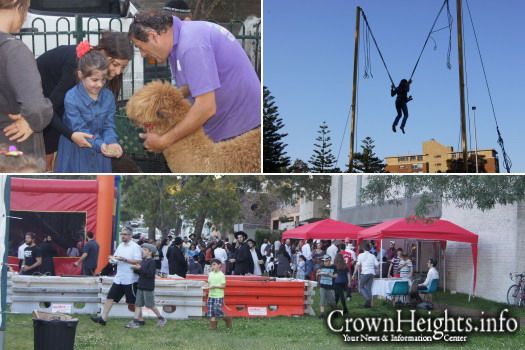 On Sunday, hundreds of Jewish children enjoyed a 'Pizza in the Sukkah' event in Sydney, Australia, featuring rides, a petting zoo, a fire show, a grand Sukkah and of course – delicious Pizza for all.
For the first time in Sydney's east, Chabad Youth NSW and 10 other organizations including: Bina, JLC, Bnai akiva, Nefesh, Israeli Chabad, Jems, Mizrachi, Young Adult Chabad, Tzemach Tzedek and Chabad of Bondi Beach joined together to make this spectacular event a reality.
"Instead of a barbecue, we decided to try something new for Bondi, so we introduced Pizza in the Sukkah. The Pizzas came out really good and everyone was able to create their own, choosing of any of the toppings available," an organizer told CrownHeights.info.
Many were able fulfill the Mitzvos of Sukkos, including shaking the Lulav, eating in the Sukkah and of course being happy.
"We are very grateful to all our sponsors, partners and volunteers," said Rabbi Elimelech Levy, Director of Chabad Youth NSW and coordinator of the event. "Many people came over with very positive feedback, especially of the great atmosphere that was felt."