Newsday
Brooklyn, NY — Dovid Taub has learned a lot since hand-sewing his first puppet four years ago to entertain a bunch of young summer campers.
"It looked very bad. It was five feet tall and cumbersome to use," Taub, now 25, recalled.
Today, the Brooklyn rabbinical student makes 30-inch puppets that are featured in a video program he produces for www.chabad.org, the Web site of the international Chabad Lubavitch Movement headquartered in Brooklyn's Crown Heights section.
UPDATE: Newspaper clipping in the Extended Article!

Those who tune in to the Itche Kadozzy Show are treated to puppet characters such as a gray-bearded rabbi by that name; a student named Jonathan; and Gefilte Fish, the delicacy topped by a slice of carrot. It's a video series that Taub uses to educate and entertain while conveying basic concepts of Judaism.
Every week, a portion of the Torah is presented on the show. Segments also cover topics from the five books of Moses to the production of kosher food.
"The puppets act out the situations and ideas that we learn from the stories," said Taub, who joined Chabad.org in 2004. He is currently producing episodes for Passover and other Jewish holy days for the show.
"Jews from all walks of life internationally are just now through the Web site discovering what Judaism is about," said Rabbi Zalman Shmotkin, director of Chabad.org.
The scripts for the video series are a collaborative effort between Taub and Jonathan Goorvich, a childhood friend from Taub's hometown of Chicago who works for a Hollywood studio. They shared an interest in writing, drawing, animation and video production. The Jonathan character is based on Goorvich.
"We try to bring out messages that we think are universally Jewish," Taub said. "That's very important to me, because I think all Jews, no matter what background they're from, are still Jewish, and every Jew can identify with the universal truths of Judaism."
A sketch the friends prepared for Passover two years ago shows its effectiveness as a teaching tool: Rabbi Kadozzy explains that Passover celebrates the historical freedom of the Jews from slavery in Egypt, to which Gefilte Fish remarks, "If I remember my eighth-grade history, the Jews declared their freedom from Great Britain," and the rabbi responds, "I think you're mixing things up."
To get inspiration for his work, at least once a month, Taub, who is married and the father of a 6-month-old, travels from his home in Crown Heights to the Cambria Heights gravesite of Rebbe Menachem Schneerson, who was the spiritual and organizational leader of the Lubavitch Movement.
"Before the rebbe's passing, when anybody did a project for the Chabad Movement, it would go through him," Taub said. "He was the one who wanted these types of projects to exist, who cared about Jewish education. I'm doing this for the rebbe and the causes he cared so much about."
Taub also does animation, illustration and interactive features for the Web site, "but a large part of my job is continuing this puppet series for children and parents," he said.
Jessica Klein of Los Angeles, an award-winning television writer and producer and former associate producer for "Sesame Street," calls the show cutting-edge.
"It's rare to see an educational show for kids that's hip and also faith-based," she said. "The messages it's putting forth are for anybody."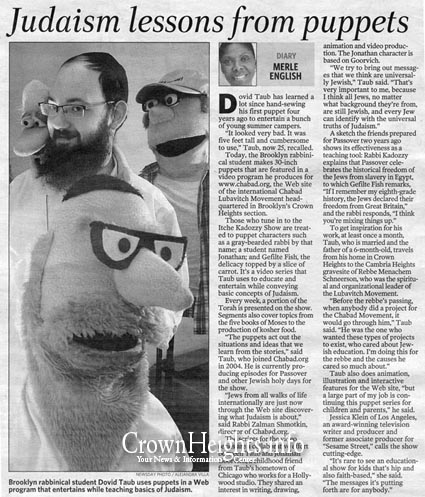 <%popup(Judaism Lessons from Puppets/123L.jpg|600|702|Click Here to enlarge the clipping!)%>