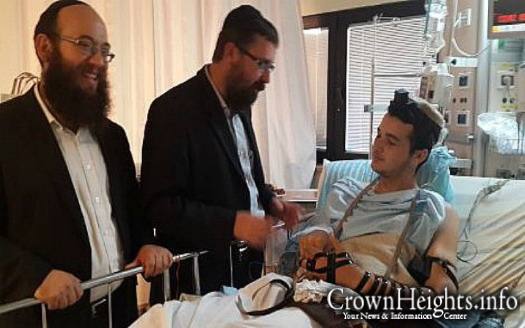 Early this morning, Wednesday, a few IDF soldiers being treated in the hospital after they were wounded in the recent anti-terror operation in Gaza remarked to visitors that their Tefilin has been lost or destroyed while they were under attack.
The soldiers were pleasantly surprised a short while later, when representatives from Tze'irei Chabad and the Chabad Terror Victims Project arrived at the hospital with brand-new pairs of Tefilin for each of them.
The Shluchim also helped those whose injuries required additional assistance with putting on the Tefilin.
The Tefilin were sponsored by members of the Lubavitch community in Paris, France.
The mother of one of the soldiers, whose injuries required the amputation of his leg, emotionally told the Shluchim that her son had studied at a Chabad Cheder in their hometown in Morocco.
"This is the most important gift for my son," she said.