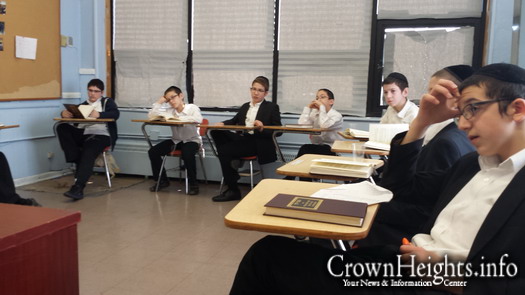 File photo: Cheder at the Ohel's 8th grade class.
Cheder at the Ohel has announced that a 'Mechina' class will be opening this fall for boys ages 13-14. The location for this class will be near the Ohel, with transportation provided to and from Crown Heights.
The Mechina class is for bochurim who are 'advanced in learning' and who would like to be part of a small class on a high level of learning. It is a transitional year between elementary and mesivta. The boys in this age group are maturing into yeshiva bochurim and will be thoroughly prepared to enter mesivta the following year.
The class' Mashpia will be Rabbi Yitzchok Goldshmid, Shliach to Valley Stream, NY, known for his engaging warmth, charisma and sincere chassidishkeit. He will teach chassidus, farbreng with the bochurim and help inspire their growth during these formative years.
The Magid Shiur will be Reb Itzik Wolf, who has recently taught the advanced 8th grade class in Oholei Torah for four years. He is known for his unique approach to teaching and special relationship with his talmidim, instilling a geshmak and chayus in their learning.
For more information, or to register, please contact Devorah Rosenzweig at 516-983-4083.