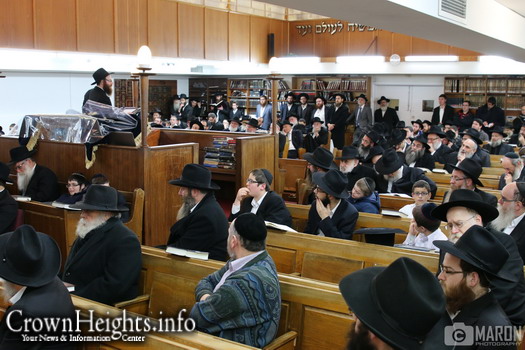 Last night, Motzei Shabbos Parshas Pinchos, a large gathering of Anash occurred at the Yeshivah Centre of Melbourne, Australia in response to the serious situation in Eretz Yisroel.
The event began with the reciting of various chapters of Tehillim. This was followed by an inspiring speech by Rabbi Yonoson Johnson, Rosh Kollel of Kollel Menachem Lubavitch. Rabbi Johnson elaborated on the Torah's perspective regarding the situation in Israel, citing numerous statements made by the Rebbe on this issue.
An excerpt of a documentary produced by JEM on the Six Day War was played. The documentary incorporated clips of the Rebbe strongly encouraging people to stay in Eretz Yisrael, and guaranteeing the safety of the land.
Participants in the program were encouraged to increase their efforts in the Rebbe's Mivtzoim, in particular Mivtza Tefillin and Mivtza Mezuzah, which are directly related to the security of Eretz Yisroel.
Photos by Maron Photography