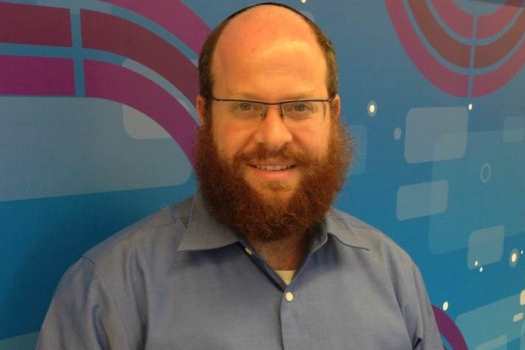 Mixing 'sacred' with 'profane,' Chabadnik Yossi Rabinovitz built an e-commerce business good enough for a top Israeli accelerator.
Yossi Rabinovitz, CEO of Israeli e-commerce start-up SelfPoint, is selling to customers around the world, and his pop-up grocery platform development company is a member of the Microsoft Ventures Accelerator, showing that the Haredi (ultra-Orthodox) high-tech revolution is growing rapidly and making him its "poster boy." SelfPoint lets customers easily set up and use an online store for their merchandise.
Besides being a successful entrepreneur, Rabinovitz is also a committed member of the Chabad hasidic movement. "People who come to visit the accelerator are often surprised, because the first people they see — with long beards and big black kippot — look as if they don't belong in that environment," he told the Times of Israel in an interview Tuesday on the sidelines of the second Haredi High Tech Forum event for new entrepreneurs.
Rabinovitz, along with hundreds of other entrepreneurs from the haredi community, both male and female, do belong at high-tech accelerators, multinational R&D centers and tech start-ups of all sizes and types, said MK Erel Margalit (Labor). As a founder at VC fund Jerusalem Venture Partners (JVP), Margalit has been intimately involved in the Israeli high-tech world for years. As head of the Knesset's haredi high-tech lobby, he has been a principal advocate of encouraging haredi Israelis to try their hand at entrepreneurship.
Those efforts have proven more successful than most people realize, said Margalit. "Haredi Israelis are flocking to government programs designed to help them build businesses," he said at the event, held at JVP's Jerusalem headquarters, where haredi businesspeople, industry leaders and business experts discussed ideas and saw presentations on how to take a high-tech idea and "run with it," get backing and achieve business success. "Haredi entrepreneurs who take an idea and build a company are like the cloud of fire before the camp," Margalit said.