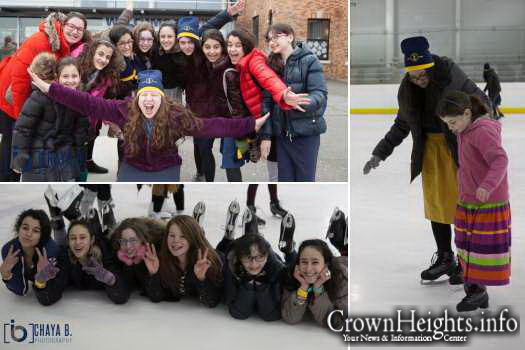 A day off of school can sometimes turn out to be quite boring – but that definitely was not the case for more than 100 past, present, and future Camp Emunah girls and their friends who joined together for the Camp Emunah Ice Skating Reunion yesterday, Shushan Purim.
Before boarding the buses, which left from President St. and Kingston Ave., each girl received a personalized Camp Emunah Ski Hat to help keep them warm while skating – and for the rest of the extended winter that New York has been experiencing.
The girls were driven to Aviator Sports in southern Brooklyn, where they enjoyed a private ice skating session exclusively for their group.
After working up an appetite from skating, dancing and singing, the girls were treated to delicious doughnuts, danishes and drinks.
Just before boarding the buses home, a raffle was held for a beautiful, personalized piece of jewelry. The lucky winner, Esty Teich, was so happy to have won the prize and couldn't wait to have her initials engraved in it.
Photos by Chaya Binyominson