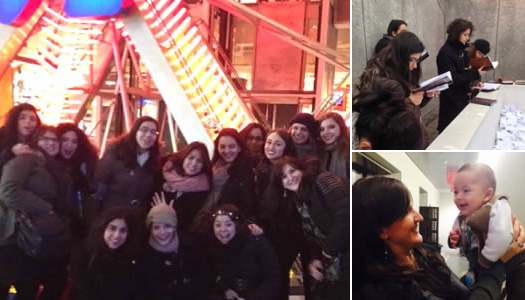 Deborah had never been exposed to much Jewish practice before, but after a recent trip to New York with her Chabad rebbetzin, she has taken it upon herself to start doing more, beginning with keeping Shabbat.
Emmanuelle decided to start lighting Shabbat candles.
Another young woman chose to stop smoking on Shabbat.
"It's very nice to know they were so inspired," said Sterna Paris, 35, who co-directs Beth Habad Universitaire (Chabad on Campus) Strasbourg in France with her husband, Rabbi Natan Paris. "The girls left the International Conference of Chabad-Lubavitch Shluchos taking on themselves to do new things. It's very nice."
The annual convention of Chabad women emissaries brings thousands of women from around the world together in New York City—namely, the Crown Heights neighborhood of Brooklyn, N.Y.—for nearly a week. There, they took part in classes; inspirational programming; several outings, including one to the Ohel in nearby Queens; and spent time soaking in the atmosphere of a very different and a very religious area.
Sterna Paris traveled abroad with 12 college students from France, in addition to her 4-month-old baby, for what would be a remarkable trip.
"Some didn't know too much, so it was interesting to really see and absorb a Jewish community for the first time," she said.
A highlight of the trip for the girls was visiting the Ohel, the resting place of theRebbe, Rabbi Menachem M. Schneerson, of righteous memory, and his father-in-law, the sixth Lubavitcher Rebbe, Rabbi Yosef Yitzchak Schneersohn, of righteous memory.
The students prepared themselves ahead of time for what was certain to be a spiritual and moving experience. Visiting the resting places of holy men and women, and praying to G‑d there, is said to bring blessings of many kinds.
"I never felt anything like what I felt when I went to the Ohel," said one of the girls.
They visited the synagogue at 770 Eastern Parkway and Machon Chanah, which offers classes for women on Chassidic thought and Jewish studies. They also attended a talk by Rabbi Manis Freedman, an author and dean of the Bais Chana Institute of Jewish Studies in Minnesota.
Paris and her husband have helped run the Beth Habad Universitaire for six years. The co-directors are her parents, Rabbi Shimon and Shaindel Samama, who have been Chabad emissaries there for 40 years; assisted by Rabbi Daniel and Noemie Benech. Her brother and his wife, Rabbi Menachem Mendel and Tehila Samama, work at Chabad as well, though not with the students.
The university serves primarily medical, law and business students.
She said that European universities are different than those in America; most students don't live on campus. It makes reaching out to them a little more challenging.
The Chabad House offers a restaurant-style daily hot lunch for Jewish students at a very low prices, including falafel and pita sandwiches, and other Israeli-style foods. They try to keep the prices low because their goal is to get students to eat kosher food, she said. And it seems to work. Dozens of students come daily to the Chabad House for warm food, some spirituality and good conversation.
And each Shabbat, about 20 to 40 students attend services. Rabbi Natan Paris also offers classes, which are popular with the Jewish students.
Close New Friends
Paris said her favorite part of the trip was the Saturday-night farbrengen, a Chassidic celebratory gathering, with songs and the "telling of amazing stories of the Rebbe," she said. "Hundreds of women were all singing together. It was beautiful."
One of the girls said she learned how "every little mitzvah counts," and plans to take one small thing upon herself and start doing it. "Hopefully, it will bring her to do more and more," said Paris. "She came away very inspired."
Paris advertised the trip via Facebook and had so many responses she had to turn girls away. For years, she has been bring a few young women with her to New York, but this time she decided to bring a larger group and to bring another woman along, Dvorah Journo, to help her.
"I made the trip very inexpensive," she said. The girls paid for the tickets, and she arranged for them to stay at a friend's house. She told them that they would be going to the Ohel and to 770. Anything else, stated Paris, "was a bonus."
She helped them understand that the focus of the trip wasn't only to visit New York, but to have the opportunity to see a glowing community.
Once home, Paris and her family—she and her husband have five children—hosted a big Shabbaton so the girls could share their various experiences.
Said Paris: "I didn't really know them before the trip, and because of all the spiritual things we did together, we became very close."