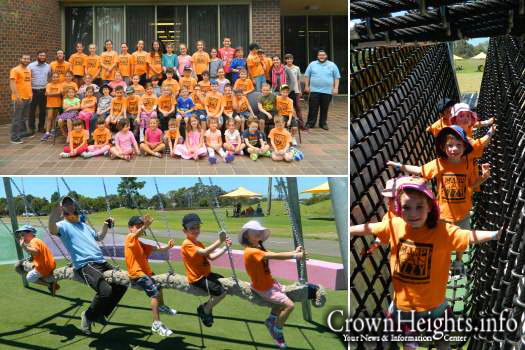 Chabad of the North Shore's Gan Izzy Summer Camp has been a hit, with over 130 children enjoying all the exciting games, activities and excursions that camp provided.
This year, camp has proved to be a continuous success as it reaches out to the wider community.
"We owe a big debt of gratitude to our devoted staff – Lavi Klein, Mayer Goldman, Shmulik Fogelman and Ari Kapeluschnik – who displayed tireless effort and enthusiasm, which led to camp's success this year. Camp Gan Izzy prides itself in high standards of childcare and safety – which is our main priority. Our goal is to infuse the warmth and beauty of Yidishkeit into all of our programs," said Camp Director Rabbi Moshe Angyalfi.
With Rabbi Angyalfi on board as camp director, camp has flourished and seen exponential amounts of growth. Most significantly regarding the work he put into gaining accreditation from the Australian Government in order for parents to receive subsidies for their children to attend camp.
Furthermore, Camp Gan Izzy, under the auspices of Chabad North Shore, recently introduced a new initiative for this coming school year. Camp Gan Izzy will now be providing an after school care service for children to partake in Jewish lessons in a fun and interactive way.
Chabad North Shore was established by Rabbi Nochum and Fruma Schapiro in 1989, under the guidance of Head Shliach Rabbi Pinchus and Rebbetzin Pnina Feldman.