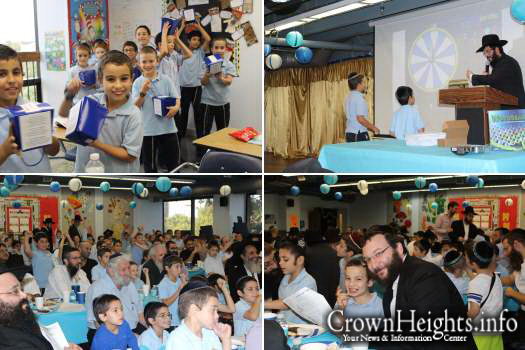 The special day of Yud Shvat at the Lubavitch Educational Center in Miami was an uplifting one, to say the least. After writing panim on Friday, each student was given his very own "Farbrengen in a Box." Grape juice, snacks and a Shabbos Morning Chassidus packet awaited each child when he got home – a special Yud Shvat farbengen right out of a box.
On Sunday, the Lubavitch Boys' Elementary School put on two back-to-back farbengens . Due to the tremendous growth in enrollment, the school auditorium can no longer accommodate all the grades at one time, so two farbrengens were held to commemorate the special day—one for grades 1 to 3 and one for grades 4 to 6.
The program included fathers and sons learning together the ma'amer Baasi L'gani, singing the Rebbe's niggunim, a lively game show and a special video presentation of the school's Chof-Daled Teves assembly, prepared by professional videographer Leon Klein.
Each of the two farbrengens was a special event, drawing a very large attendance. Students, parents and staff left uplifted and moved.
Lubavitch Boys' Elementary School is under the very able leadership of Principals Mrs. Shevi Sossonko and Mrs. Becky Garfinkel. The farbrengen was arranged and led by Rabbi Yakov Garfinkel. Much thanks and appreciation goes to Mrs. Rachel Lewis for her valuable support in setting up the event.
The specially prepared video from Chof-Daled Teves shown at the event: