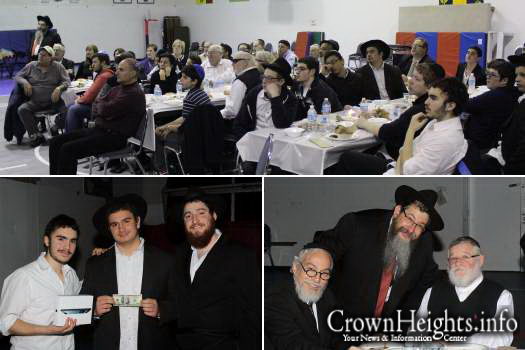 The bochurim at YNS – AKA 'Rabbi O's yeshiva' – in New Jersey worked very hard with their preparations for Yud Shevat.
In culmination of their preparations, they visited the Ohel, where they wrote Panim and left tremendously uplifted.
The yeshiva farbrengen took place on Friday night and lasted until the wee hours of the morning.  Rabbi Y. Orimland, the Rosh Yeshiva, spoke intensely of the mesiras nefesh of the Friedike Rebbe for yiddishkeit and of the responsibility that we have today to the Rebbe.  He continued through the night with this theme – that every bochur can be a leader.  One needs to puts his mind to it by being himself, not trying to impress others.  At times that takes willpower – to go against the tides of society and not bend to peer pressure.
Motzei Shabbos the yeshiva hosted the community for a Melave Malka, where an audience of over sixty people were glued to the stories of the Rebbe and were also mesmerized by the videos shown on the Rebbe – with one interview being of Rabbi  'O's father, Rabbi Gimpel Orimland, OBM.
A lavish Chinese dinner was enjoyed by all, and everyone left with great excitement and inspiration.
The evening concluded with the raffle of the Yud Shevat Mivtza.  Hatomim Gershon Goldstein won an iPad mini and Hatomim Yitzy Wall won $100 cash.