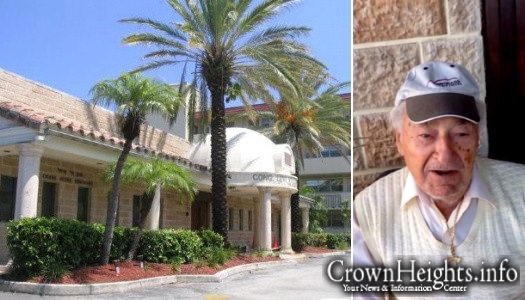 Left: Chabad of Hallandale Beach, FL. Right: Chazzan Chaim Kriss.
Chazzan Chaim Kriss, a long time member of Congregation Levi Yitzchok-Lubavitch in Hallandale Beach, celebrated his 99th birthday this past Shabbos Lech Lecho, the Parsha in which Avrohom Avinu is 99 years old.
In a brief video clip taken Erev Shabbos by Rabbi Levi Tennenhaus, Chabad of South Broward's program director, "Chazzan Chaim" talks about his 99th birthday, the Kiddush planned for his birthday, and the "hold the date" arranged for his 100th birthday IYH next year.
"Chazzan Chaim" studied in Yeshiva Torah V'daas from kindergarten through high school ( 13 years, from 1918-1930), never misses going to Shul, and studies every day a Perek Rambam after the first Shachris Minyan in Hallandale Beach.
Two hundred people participated in the Kiddush/Farbrengen in honor of "Chazzan Chaim's" 99th birthday. The Shabbos services were enhanced with the Daavening of Chazzan Rabbi Yossi Lebovics. Speakers at the Farbrengen included Rabbi Raphael Tennenhaus, Rabbi Leibel Miller, Mr. Ron Kriss, Mr. Eran Israel and Binnie Borenstein, representing the Chaya Aydel Seminary.
Everyone said L'Chaim and wished Chazzan Chaim to live until 180 years old. According to Rabbi Tennenhaus, "his attitude is incredible. When he leaves the Synagogue each day, he tells everyone 'enjoy everything you do,' and he really means it."