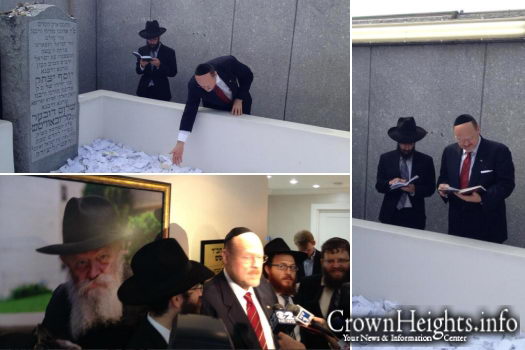 Following his victory in the New York City Republican mayoral primary on Tuesday, former MTA chairman Joe Lhota visited the Rebbe's Ohel in Queens today in advance of Yom Kippur.
The mayoral nominee was brought to the Ohel by Rabbi Yitzchok Hecht, director of Chabad of Ulster County, NY, who is a family friend of Mr. Lhota. He was accompanied by Michael Fragin, his liaison to the Jewish community; Rabbi Mendy Hecht of Chabad of Park Slope; and Rabbi Yaacov Behrman, a Crown Heights community activist.
Mr. Lhota gave thanks for his initial victory, and prayed for further success in the general elections this fall, where he will compete against Democratic nominee Bill de Blasio.
Photos by Jacob Kornbluh