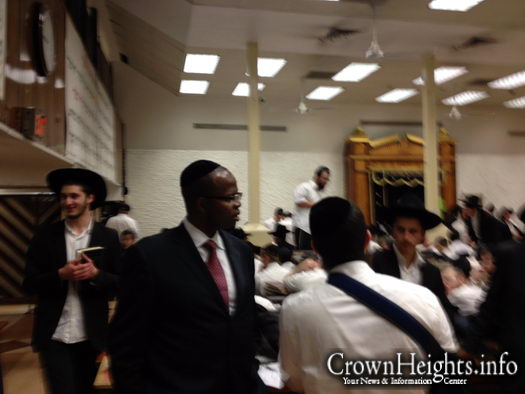 Brooklyn D.A. candidate Kenneth P. Thompson visited Crown Heights yesterday (Thursday). His first stop was at 770, where he stood at the spot were the Lubavitcher Rebbe handed out dollar bills to world leaders and community residents alike.
This was followed by a private visit with community activists and leaders to discuss issues relating to fundamental fairness in law enforcement and community safety policies.
Thompson was given a detailed presentation of the Crown Heights community's concerns regarding public safety, bias crimes and interactions with law enforcement. In response to the presentation, which lasted over an hour and a half, Ken Thompson pledged to work the community and its leadership to address all areas of concern.
He also stressed the major change he would bring to the DA's office, namely to win back the people of Brooklyn's confidence in the DA's office by stressing fundamental fairness in investigations and prosecutions — in contrast to D.A. Hynes who has referred to Orthodox Jews as vigilantes who are worse than the mafia.
Thompson also stressed that he will have a zero tolerance for bias crimes regardless of the background the perpetrator or victim. He emphasized that he looks forward to working with community leaders once he is DA to make sure that all of Brooklyn's residents as protected in their homes and in the streets.