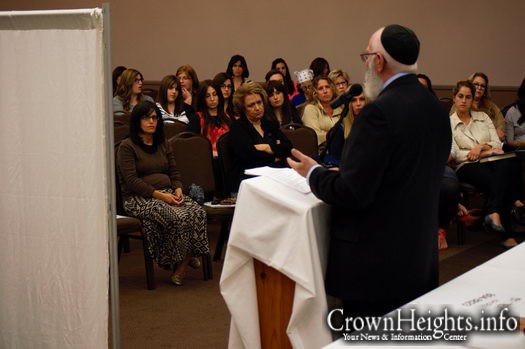 Last Tuesday, August 20, over 200 Orthodox Jews gathered at Congregation Shaarei Tefillah of Los Angeles to hear a series of lectures on the topic of child abuse within the Jewish community. The event was coordinated by child abuse advocacy group Jewish Community Watch, and the overall theme was clear: Abuse against children will no longer be tolerated.
Opening the program was guest speaker Dennis Brown; Substance Abuse Professional and Executive Director of the NESS Counseling Center. Brown lectured on his extensive experience with predators, noting that many of them reside at home with their families, living double lives.
"It's hard to believe there are so many cover-ups," said Brown. "That's why it's all of our responsibilities to not be afraid or ashamed, but to stand up and say, 'He did something!' If it means that person will be incarcerated or registered, so be it."
Local Criminal Prosecutor Benny Forer spoke about abuse from a legal perspective, giving the audience a general overview on how crimes are investigated and prosecuted. He also stressed the importance of a nationwide offender registry, saying that pedophiles fear registration far more than they do incarceration, and that a registry list actually reduces recidivism.
A highly anticipated and enlightening lecture was delivered by Rabbi Elchonon Tauber; renowned Torah scholar and teacher. Rabbi Tauber is often asked to sit on the rabbinic panels of many of the city's most complex Din Torahs (Jewish court-cases) – most commonly involving questions relating to the societal changes of modern times.
R. Tauber stated that in cases of child abuse, a person must immediately alert the authorities. It is of popular opinion among the Orthodox community that in no circumstances is a Jew allowed to report another Jew. R. Tauber explained that this school of thought is "absolutely false."
"When you take molestation out of the equation, people find it easier to digest. So, let's take molestation out of it. Let's say that someone was going into schools and putting a type of poison in the children's food that would make them sick for the rest of their lives. Would you go to the Rabbis? No. You would call 911. You would go straight to the police."
R. Tauber also warned that according to Torah law, if someone knows a molester and does not report that person to the authorities, he or she is also considered to be a molester. He went on to site numerous Biblical, Talmudic, and Rabbinic sources where this found to be true.
Pattie Fitzgerald of Safely Ever After, Inc. has been successfully teaching Child Predator Safety Awareness since 2001.  Her lecture consisted of information on keeping children safe and teaching them how to recognize red flags. According to Fitzgerald, 1 in 4 girls and 1 in 6 boys are exploited before they reach adulthood, yet less than 35% of cases are ever reported. These children are mostly between the ages of 9 and 12 years old.
The final speaker of the evening was Meyer Seewald; Founder and Director of Jewish Community Watch (JCW). Seewald explained that since its inception in 2011, JCW has become the only real safety-zone for victims worldwide, and that they have so far compiled a massive database of over 225 suspected and convicted offenders living in Orthodox Jewish communities across the globe. Seewald continues to receive reports from victims and parents of victims. He says that the JCW is currently volunteering specialists, therapists, rabbis, educators, and members of law enforcement to increase their efforts in supporting victims and exposing their perpetrators.
"For the first time, it's the molesters who are scared," said Seewald. "And they have to be, because if you touch a child, you will regret it."