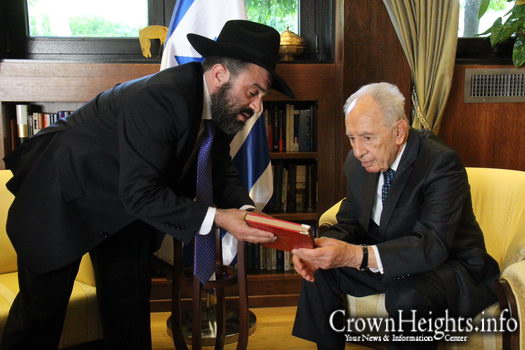 Rabbi Levi Edri, acting as liaison between the Ukrainian Jewish community and the Israeli government, delivered a letter from Ukrainian President Victor Yanukovich to Israeli President Shimon Peres, wishing him a happy 90th birthday.
The Israeli president commented on how important the relationship between the two nations are. At about 2 percent, Ukraine has a higher percentage of Jews comprising its population that any other nation in the world – aside from Israel.
Rabbi Edri mentioned to Mr. Peres that his appearance on a video released by JEM about a year ago has elicited much interest in his history with the Rebbe by the worldwide Chabad community. Mr. Peres seemed very pleased to hear this.
Photos by Yosef Avi Yair Engel