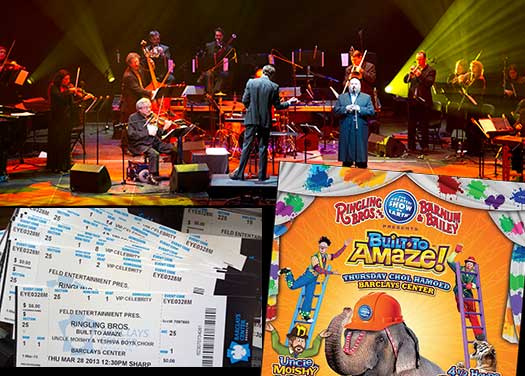 After selling hundreds of tickets to members of Crown Heights for the Helfgot / Perlman Chazanus Concert at the Barclays Center, Mesivta Chovevei Torah is now selling tickets to the Ringling Brothers Circus also at the Barclays Center this Chol Hamoed Pesach.
Last Thursday night, hundreds of Crown Heights residents got on the 3 train at Kingston and got off 10 minutes later at the Barclays Center arena in Brooklyn for the first Jewish event there. They enjoyed top violinist Itzhak Perlman and Chazan Yitzchak Meir Helfgot with the accompaniment of a Klezmer band and an 18-piece chamber orchestra. The imputus for the event was Barclays' Jewish owner, Bruce Ratner.
After Mesivta Chovevei Torah's success at selling tickets for the concert to benefit their Yeshiva, they partnered with "Chol Hamoed Events" to sell tickets to the Ringling Brother Barnum and Bailey Circus together with a concert featuring Uncle Moishe and the Yeshiva Boys Choir – a 4 ½ hour event on Thursday, Chol Hamoed Pesach. The circus will feature 95 animals and 110 performers – including 18 tigers, 8 elephants and 20 aerialists and acrobats. For this special event, the circus agreed to implement special tznius standards whereby only male performers will act.
The last Circus for frum Jews was several years ago and all tickets were sold out to the event. This event will seat about 12,000. All ticket sales in Crown Heights at Judaica World on Kingston Avenue and from the yeshiva will benefit Mesivta Chovevei Torah. Ticket prices range from $20 to $180.