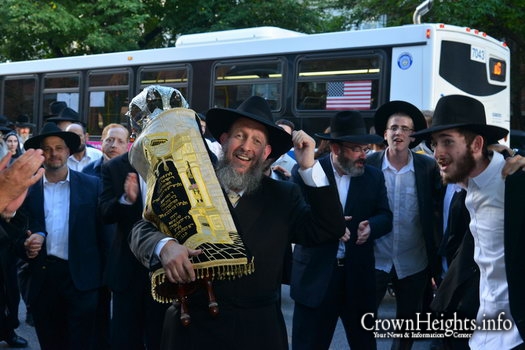 The Beis Yisroel Torah Gemach (BYTG), in conjunction with Merkos L'Inyonei Chinuch's Suite 302, announced another long term Torah placement in Marion County of Ocala, Florida. After years of scrambling and borrowing Sifrei Torah for use at its weekly minyan of 30 strong, the Chabad Lubavitch Jewish Center of Marion County is thrilled to have procured a worry-free temporary solution.
Gemach founder Rabbi Benzion Chanowitz of the Flatbush neighborhood in Brooklyn, New York, describes the inspiration behind this much appreciated service. "I noticed that many shuls in the New York area possess an abundance of sifrei Torah but only end up using a maximum of three throughout the year. With so many shuls, Chabad Houses, chesed organizations, hospitals, and summer camps worldwide lacking sifrei Torah, I felt that if I were to become a shadchan of sorts, I could make a difference." And indeed, he has done just that.
Established in memory of his father, Reb Yisroel Chanowitz A"H, the Beis Yisroel Torah Gemach arranges for the repair and revival of old sifrei Torah and deploys them to shuls and Chabad Houses in need for long-term loan. Chabad of Marion County is but one of the grateful recipients of this vital service, as is the Chabad Student Centre of Kingston, Ontario. The sifrei Torah they received were two of three sifrei Torah belonging to Congregation Ezrath Israel in Ellenville, New York that were not being used and simply needed a bit of repair in order to become a weekly cause for celebration in Marion County and Kingston. BYTG has eleven sifrei Torah currently undergoing repair and ten loaned specifically for use in Chabad Houses in the USA.
"In today's economy, everyone is looking to stretch their dollar to its max," explains Rabbi Chanowitz. "I feel that this concept should be applied to charity giving as well. How many people can I enable to benefit from the dollar I give to charity?" Since its inception, 9,000 people have heard krias haTorah from the sifrei Torah that were provided by the Bais Yisroel Torah Gemach. But, as Rabbi Chanowitz states, "The Rebbe told us not to be content with our accomplishments. The Aibershter put this idea in my head, and I must keep on going." Though Rabbi Chanowitz has seeded this project, the continuity of the Torah Gemach is dependent on incoming donations, with $2,000 needed to prepare each sefer Torah for deployment.
"A sefer Torah is foundational for any shul," says Rabbi Mendy Kotlarsky of Suite 302. "And just like any foundation, it is our hope that we will be able to bring even greater strength and stability to the shuls who are able to take advantage of this Torah gemach."
The Bais Yisroel Torah Gemach invites shluchim to submit requests for sifrei Torah by clicking here. To donate to the Beis Yisroel Torah Gemach, email torahgemach@merkos302.com.