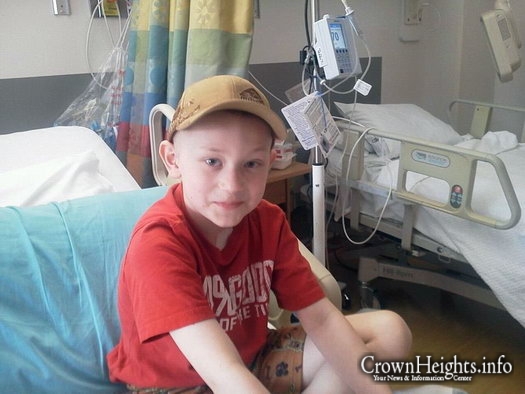 On a cold Sunday afternoon in January of 2012, Rebekah and Walter Harms' life would change forever. Walter noticed a small lump on the right side of their 9-year-old son Matthew's neck. After days of doctor visits, x-ray, and tests, the doctors at St. Peter's University Hospital notified the Harms family that the lump they had originally noticed on Matthew's neck was malignant.
They were advised by the oncologists that Matthew had T-cell acute lymphoblastic leukemia (ALL). The mass on his neck that was initially the size of a marble was now larger than a softball. They were further told that the mass was larger on the inside of his body and was very close to compromising his windpipe.
In the blink of an eye, their world as they knew it was about to change. Matthew would no longer be a "typical" boy and his father and mother would no longer be just his parents. Their parenting roles expanded to include caregiver, nurse, medical terminology expert, and pharmacist, among other titles.
Immediate medical care started to shrink the mass. During Matthew's first 12 days in the hospital, he had his portacath (for receiving chemotherapy intravenously) put in, and he began his regimen of chemotherapy.
Matthew was fortunate they caught his cancer early. At the onset, 74% of his blood contained leukemia cells. After the eighth day of chemotherapy, that number was reduced to 2%. By day 29, he was considered in remission.  Even so, the road for Matthew and his family was going to be very long and bumpy.
Matthew was diagnosed with T-cell ALL, which occurs in fewer than 10% of children diagnosed with ALL. This type of leukemia has a high tendency to work its way through the spinal fluid and up into the brain. The protocol begins with chemotherapy (both intravenously and orally), antibiotics, steroids, bone marrow biopsies, and spinal taps, in many cases more than once a week. In Matthew's case, this treatment lasted 9 months. During that time, Matthew spent many weeks in and out of the hospital and was not permitted to attend school.
At the end of September 2012, Matthew began the maintenance phase of treatment. During this phase he is permitted to attend school (if his blood count is appropriate). Treatment consists of daily oral chemotherapy, hospital visits for intravenous chemotherapy, and a spinal tap once a month. The maintenance phase will continue until March 2015. At 10 years after the end of treatment (March 2025!), if the bone marrow continues to test clean, Matthew will be considered cured.
Chabad of Hunterdon County will be holding an auction fundraiser on Sunday, March 3, 2013, to benefit the Matthew Harms Medical Fund and the Chabad of Hunterdon Scholarship Fund. The proceeds from the auction will help provide the Harms family with much needed relief to address additional medical costs, and they will benefit the Chabad of Hunterdon County scholarship fund, which provides educational scholarships to families who are in need.
Matthew's sisters Lea and Karley attend Chabad's Hebrew school and have been attending Chabad programs and events for the past 5 years. Leah is preparing for her upcoming Bat Mitzvah this March. "I am passionate about helping Matthew and his family during this very difficult time in their life," says Rabbi Eli Kornfeld, executive director of Chabad. "It is important for a community to lend support and to rally together to help those who are experiencing challenges, especially something as traumatic as leukemia. It is also an opportunity to bring attention to this devastating illness, which impacts not only the patients but also their parents and siblings."
The auction features 55 prize packages valued at more than $75,000. The grand prize is a private jet vacation getaway for 6, which is getting a lot of attention. Some of the other prizes include an Apple iMac, iPad, iPod, iPad Mini, Macbook Air, $1000 Visa gift card, art pieces from Chagall and Dali, luxurious jewelry and watches, and sports packages. A full list of prizes and raffle tickets for each prize can be purchased online at www.mychabadauction.com.
The auction event will feature world renowned comedian Sarge and will be held at the historic Stangl Factory in Flemington, NJ. It will feature sushi and deluxe food stations by Fumio Catering of Livingston and an open bar by bartender Jeff Goldberg. Admission tickets are $50 and include $25 worth of raffle tickets and a $25 gift card from ice.com.