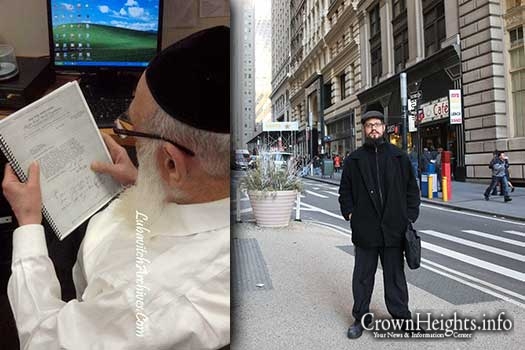 Left: Rabbi Moshe Kolodny looks at documents on the activities of the Rebbe Rayatz to assist Jews during the Holocaust. Right: Dovid Zaklikowski outside the Manhattan offices of Agudah.
Over the past few months Lubavitch Archives director Rabbi Dovid Zaklikowski (the "Chabad Archivist") has been doing research on the history of the Rebbe Rayatz, the sixth Chabad Rebbe, during the Holocaust.
Rabbi Moshe Kolodny, the director of the "Orthodox Jewish Archives" or the archivist of the Agudath Israel of America, has a vocal opinion about the Rebbe Rayatz. His overreaching statements are known and published extensively in interviews he gave.
However, it is clear that Rabbi Kolodny did not how the Rebbe Rayatz teamed (amongst other organizations) with, someone who he most probably knows more about that anyone else, Rabbi Jacob Rosenheim, the director Agudath Israel World Organization.
The Chabad archivist went to meet the Agudah archivist to present Rabbi Rosenheim's correspondence with the one who led, at the time the Chabad relief efforts, Rabbi Shemaryahu Gurary, known as the Rashag.
What ensued was a fascinating admission by Rabbi Kolodny that he was mistaken in his beliefs, "I didn't know! I would have never made those claims!"
The missing pieces of the two organizations archives speak volumes. What is in the Agudah's Archives does not exist in Chabad's and what is Chabad's does not seem to be in Agudah's. Missing pages are clearly nothing new in archives, but both came to the conclusion that there is more to still be found.
The two archivists made up to meet again, as they both continue to plow through their respective archives, on more clues on the Rebbe Rayatz's rescue efforts in conjunction with Agudath Israel.