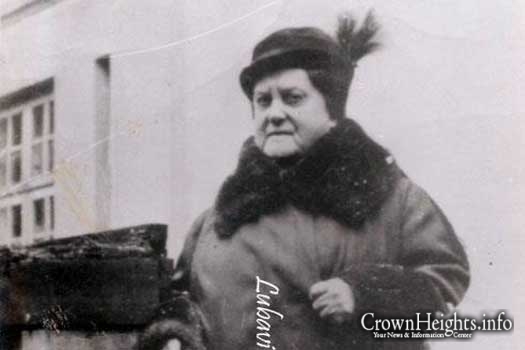 Today, the 13th of Shvat, is the Yahrtzeit of Rebbetzen Shterna Sara Schneersohn, the wife of the fifth Chabad Rebbe, Rabbi Shalom Dovber and the mother of the sixth Chabad Rebbe, Rabbi Yosef Yitzchak. She outlived her husband by many years, was an advocate for the students of the Lubavitch school and assisted her husband and later her son in their communal activities.
During WWII she endured under the Nazis with her son and then escaped with him to the United States. The Rebbetzen held her prayers precious and would pray with much enthusiasm. During the High Holidays in Warsaw, 1939, as the Germans were bombing the German quarters, she was forced to be separated from the community. Rabbi Wineberg describes that night in his diary:
The Rebbetzen asked for her prayer-book and eyeglasses she had left at the Shmotkin's, since she wished to pray the services. When I returned with them, she asked what was taking place over there. I told her they had begun the communal prayers there. She responded, "What a pity I left, I missed the prayer of Barchu!" [which is only said together with a congregation].
She passed away during the Shabbos prayers, which she joined the congregation, stating, "today is the 'Shabbos of Song' [when they read in the synagogue, the Torah reading of the song that the Jews sang after the Splitting of the Sea], the prayers need to be different!"