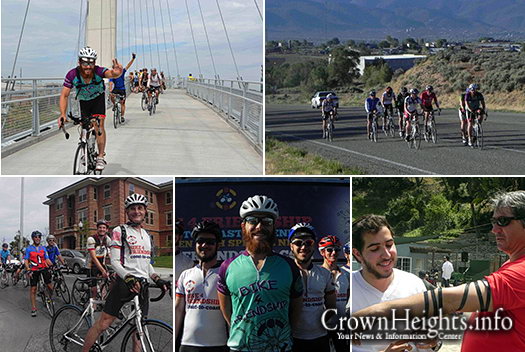 What does a veteran of the IDF, a sixty-year-old man from Denver, and a yeshiva student from New York City all have in common? They were all participants in last year's Bike 4 Friendship cross-country bike trip.
The grueling 3,500-mile bike ride is held annually to help raise much-needed funds and create awareness about the important global activities of Friendship Circle International, a division of the Shluchim Office. Friendship Circle is an organization that connects children with special needs with teenage volunteers who provide them with friendship, companionship and opportunities to socialize and be a part of the community. In addition to helping the children themselves, Friendship Circle, also helps their families by organizing much-needed getaways, social events and programs for parents, and providing them with resources and support.
Last year's bike ride took over 200 hours to complete, and passed through the naturally magnificent landscapes of the Sahara Desert, the Colorado Rockies, the Appalachian Mountains, Arizona and New Mexico. The riders also spent time in some of America's biggest cities, including Denver, Omaha, Chicago, Detroit and Cleveland.
The ride was an inspiration for everyone who heard about it, encountered it, or participated in it. Many bikers in cities along the route joined the riders as they passed through or near their hometowns. Two Chabad Houses were inspired to open their own Friendship Circle chapters after the riders passed through their communities. The Five Towns chapter of Friendship Circle even organized its own one-day bike ride to benefit the organization.
Aaron Neufeld, one of last year's participants who biked the entire route, said, "People may have been inspired by us, but we were also inspired by them." The riders were constantly amazed by the outpouring of support they received from some of the kind people they encountered along the way, including a farmer who provided them with bags of produce from his farm. They were especially inspired by the children with special needs whom they met during their visits to the local Friendship Circle chapters along the route. All of the cyclists agreed that the Bike 4 Friendship ride had changed their lives forever.
This year's Bike 4 Friendship 3rd annual ride will begin in San Diego, (starting point of Race Across America), on June 16, finishing in New York City on August 4. Cyclists who can commit to the full ride are invited to join for the entire life-changing, seven-week trip. Those looking for the cross country experience, but who cannot commit to the full trip, are invited to join for a weekly segment, especially the last week, which will include less intense riding and more luxurious accommodations.
Apply at Bike4Friendship.org and make a lasting, positive impact on your own life, as well as the lives of children with special needs and their families.