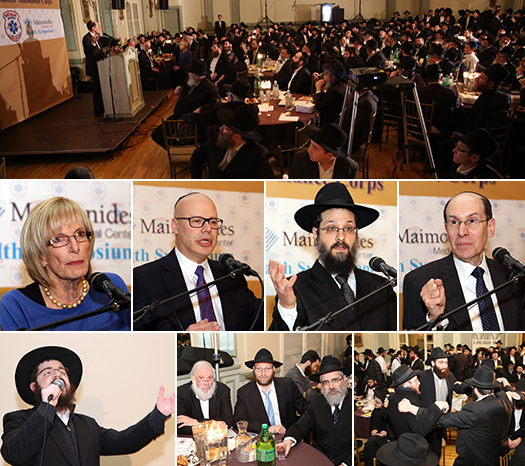 Over 1,000 men and women turned out Motzai Shabbos for Crown Heights Hatzalah's annual Melava Malka, health symposium and raffle for $18,000.
Opening the evening was Hatzalah coordinator Yossi Friedman who began with an appropriate Dvar Torah about the role of doctors and medicine. The crowd then heard greeting from the president and CEO of Maimonides Medical Center Mrs. Pamela S. Brier, she spoke of the hospitals commitment to 'do no harm' and the value they place in care. Mrs. Brier wished that she never see us other than for the births of babies.
The evening featured a special guest speaker, Dr. Greg Ribakove Director of the division of cardiothoracic surgery and the Vice Chair of the department of surgery at Maimonides, he began his speech with an incident where his mother who was shopping in a grocery store when she had fainted. A Hatzalah volunteer immediately rushed to her aide, and thankfully she completely recovered.
In that time, Dr. Ribakove related, how this volunteer had 'adopted' his mother, making sure she was ok and following up and checking in. He thanked and praised Hatzalah for the vital work that they do.
Following was Dr. Paul Saunders, a cardiothoracic surgeon at Maimonides who spoke about cardiac health. Dr. Steven Rudolph, the Director of the Jaffe stroke center at Maimonides who spoke about strokes, prevention and treatment.
Also speaking that evening was Dr. Eli Rosen, who run a medical practice in Crown Heights and is also a volunteer in Hatzalah. The evening concluded with a short talk from Rabbi Levi Gorelik.
The Melava Malka featured a delicious spread of dairy and parev food catered by Benny Turk of Turk Cateres, a wine bar by Yudi Eber of Eber's Wines and Liquors and a sushi bar by Sushi Spot. Live music and a special performance by Benny Friedman rounded off the evening
The lucky winners of the night's prizes were Dovid Michel who won the $18,000 and Yaakov Simon who won the iPad.