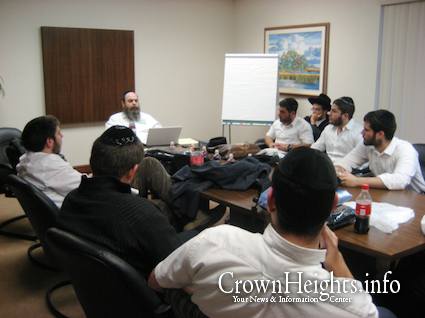 By Yanky Kopfstein
MIAMI, FL [CHI] — After four months of learning Smicha from inside the Sforim we have reached a point where we now need to go out to see the practical applications of what we have been studying.
More pictures in the Extended Article!

Last Thursday, Rosh Chodesh Adar, we sat our second Smicha exam. That evening, after seder Chassidus, the Head of Chabad Chevrah Kadishah of Florida came to lecture on the responsibility of the Chevra Kadisha, and to prepare us for situations that will unfortunately arise for many of us who will later on become Rabbis and Shluchim.
Tuesday, the 6th of Adar, at 4:30 in the morning we headed out on a four hour drive up to a Plant City, an hour away from Orlando. We where warmly greeted by Rabbi Sholom Dubov the Head Shliach of Greater Orlando, Florida. Rabbi Dubov kindly took of his time to sit down with us for over an hour to discuss "onsite kashrus" and to answer all of our questions on the practical aspects of the halachas we have learned. After these discussions he took us to three factories he supervises, to witness firsthand how to kasher and supervise a food factory to the highest halachik standard.
The first factory we inspected was Mastertaste specializing in turning fruits, through a complex process of heating and cooling fruit juices, into a powdered form for companies and businesses which have limited storage space, one such client being the United States Military for whom storage is always in short supply.
The next factory we visited was TATA Tea inc., which is the largest tea manufacturer and distributer in the United States, supplying products to companies such as Snapple.
The third factory on the list was Paradise Fruit where they make glazed sugared fruit, primarily used for the manufacturing of commercial fruitcakes. The owner/manager, being a Jew, was most keen on meeting us and giving over a few words on the importance of running a kosher certified business.
When we had finished we went back to the board room to go over the day activities and the many new questions that arose during the on site tours.
The following morning, as opposed to our usual schedule of study, we visited Dr Goldwaser a member of the Miami community and a renowed psychologist, who discussed with us many of the probable situations shluchim may encounter as Shluchim or in our personal lives; namely how to recognize and deal with or refer out mental issues and how important it is deal with them appropriately.
After an intense session with the Doctor we headed back to Zal where we carried on our long day of study.
This experience could not have been possible without the tireless efforts of our Rosh Yeshiva Rabbi Frankforter, Rabbi Dubov of Orlando, Dr Goldwaser, and Rabbi Leibel Miller. All of whom took time out of their busy schedule to inform, teach and contribute to our rabbinic education.