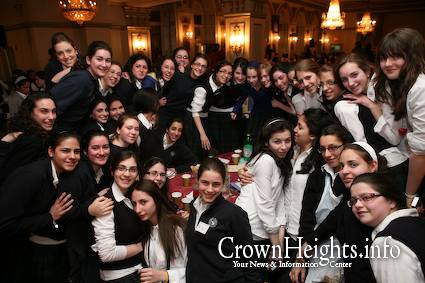 Girls at the High School Program – Illustration Photo
CROWN HEIGHTS, Brooklyn [CHI] — Many months ago some wonderful tenth graders in Melbourne, Australia took upon themselves the task of organizing a trip to New York to attend the annual Chof Beis Shvat high school program.

They established Achos HaT'mim , and inspired the whole Beth Rivkah high school to increase in their learning, avodas haT'filah and Ahavas Yisroel through various programs including before school shiurim, farbrengens, mivtzoim as well as taking on efforts for each one to improve in all aspects of behavior befitting a Bas Chabad.
In order to be eligible to enter the goral to be zoche to win a trip to New York, each girl had to earn 770 points per week. In addition they needed to fund raise and convince parents and the school as to the tremendous impact this trip would have on, not only the school, but the whole community. Besides the financial cost of the trip, chof beis shvat takes place at the very end of the summer vacation in Australia, meaning the girls would return after school would be starting.
During summer camp a few weeks ago , the director of Chabad Youth, Rabbi Moshe Kahn, indeed felt the great effect these girls would have on their return to Melbourne and he undertook to help in partially sponsoring the trip. In return 4 girls agreed to work as shluchos for Chabad Youth through running various hafotza activities such as shabbos mornings and after school programs.
Boruch Hashem 8 girls from Melbourne, who all undertook the hachona program with utmost dedication and effort, were able to participate in the high school program in New York. We are confident they will benefit from the tremendous achdus and atmosphere and the experience of being with 1600 other girls from all over the world. In turn they will bring back all they have seen and learnt to inspire their friends, family and entire community.