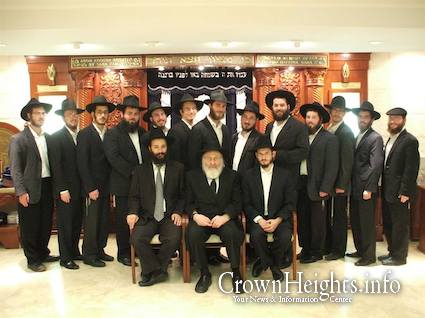 GOLDEN BEACH, FL [CHI] — The Yeshiva Semicha Program of Golden Beach, Florida, under the auspices of Rabbi Chay Amar and directed by Rabbi Berel Gurary, recently celebrated with a monumental inauguration dinner.
The dinner included a Hachnosas Sefer Torah, the Torah to be inducted into the Yeshiva, and was a truly beautiful Kiddush Hashem and Kiddush Shem Lubavitch. It was also graced by the presence of Rabbi Dovid Pinto, renowned in Sefardic communities, who flew in from Eretz Yisroel for the event. There were inspiring speeches heard, a five course lavish dinner served, a live band, and vigorous dancing. The community was very uplifted by the Yiras Shamayim and sincerity of the bochurim.


This week, the bochurim were tested on Hilchos Basar b'Chalav by three most prominent rabbanim. Rabbi Dovid Shochet of Toronto was extremely impressed and remarked that he was "astonished" with the bochurims' fluency and knowledge of the Halachos. They were also tested by Rabbi Gavriel Tzinner, author of the acclaimed Nitei Gavriel sefarim. He, too, was very pleased with their progress and the quick and accurate responses of the bochurim. Additionally, they had the very unique and special opportunity to be tested by the Rosh HaYeshiva of Oholei Torah Rabbi Yisroel Friedman.
Yasher Koach to our bachurim for the outstanding efforts and results they produced! They are: Yisroel Lesches, Yehuda Marrus, Shmuli Estreicher, Yosef Abramoff, Z.S. Wircberg, Shimon Segal, Zalmy Wolf, Daniel Gerber, Dovid Aba Goldstein, Sruly Clapman, Chaim Kohan, Dovid Nacca, and Arye Lieb Erlich