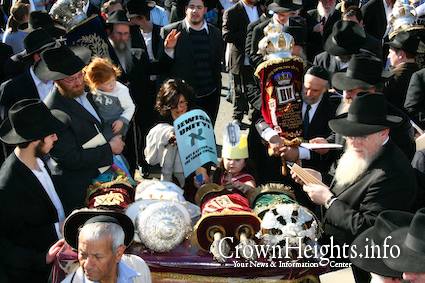 by Mendy Hecht
Congregation Levi Yitzchok's Torah scrolls join their new colleague for outdoor hakafos
LOS ANGELES, CA [CHI] — L.A.'s Frum Jewish Community Comes Together for Special Sefer Torah.
Over 1,000 Yidden—men, women and children of all ages—converged on a single house in the Beverly-La Brea area of Los Angeles this past Sunday, January 13, 2008, for a very special siyum and hachnosas sefer Torah.
More pictures in the Extended Article! (by Natan Davoodi)

The house in question is the home of Rabbi and Mrs. Danny Rotenberg and their family, including their autistic son Yaakov, who recently celebrated his Bar Mitzvah. Rabbi and Mrs. Rotenberg are long-time L.A. mechanchim at Yavneh Hebrew Academy and the Cheder of Los Angeles, respectively.
Due to his condition, Yaakov cannot lein from the Torah. Two years ago, knowing this, community leaders and friends of the Rotenbergs "conspired" to give the young bochur and his family a special Bar Mitzvah celebration that the entire community could join. Thus, a brand-new Torah scroll was begun in Yerushalayim.
And two years later, this past week, that same Torah scroll was completed and marched amidst great fanfare to its new home, the Kol Yaakov Yehudah/the Rebbe's Diamond Daveners Junior Congregation, Los Angeles' largest and most active children's shul.
The ceremony began at 1:00 p.m. in the Rotenbergs' home at 120 N. Detroit St. as community leaders took turns completing the holy letters. Rabbi Shimon Raichik, Mora D'Asra of Congregation Levi Yitzchok (L.A.'s largest Lubavitcher shul), Rabbi Yossi Shusterman of Beverly Hills, among the state's leading poskim, R' Mendel Duchman, founder of the kids' minyan and community activist, and others joined the sofer in making the new Torah whole. With over 200 participants on the premises both inside the home and out in front, including young Yaakov's eight older siblings who had flown in from New York, England and Israel, the last letters were penned by Rabbi Rotenberg, the proud father.
The crowd then spilled out unto the street, quickly swelling to over 1,000 individuals who joined their ranks for a grand parade.
As an LAPD detachment assisted in directing the enormous crowd and diverting traffic, a richly decorated flatbed trailer topped by a live band kicked off the gala march, followed by hundreds of children from over six participating yeshivos and schools. Behind them went the parade's central feature, the chupah-bedecked Torah scroll, surrounded by men bearing torches and dancing participants.
Adding to the kavod hatorah, a live marching band strode along behind the chupa, themselves followed by a troupe of stilt-walkers and jugglers to delight the participating children.
The throng of participants, including many members of L.A.'s sizable Lubavitch, Litvish and Chasidish, Modern Orthodox and Sephardish kehilos, filled Detroit St. as they made their way down to 1st Avenue, which was closed to traffic. They then walked a short distance to La Brea Boulevard, one of the city's largest and most important commercial/vehicular corridors, which had also been shut to automobiles for the parade.
It was here that the parade's true impact could be felt, as the crowd of over 1,000 Jews surged up an empty La Brea several blocks to Oakwood Avenue, where the KYY children's shul, the sefer Torah's new home, is located. Pomp and excitement were the order of the day, with joy and energy felt all around as a unified kehilah slowly sang and danced its way up the vast street for over an hour.
The parade arrived outside the shul at 2:15, where the Atah Hareisa hakofos ceremony was held under very sunny skies right on the street. HaRav HaGaon Ezra Binyomin Shochet, Shlita, Rosh Yeshivah of Yeshivah Ohr Elchonon Chabad was honored with a posuk, as well as Rabbi Yoel Burstyn, the respected long-time principal of Bais Yaakov of Los Angeles; Rabbi Daniel Korobkin, the leader of Kehilas Yavneh; HaRav Chaim Boruch Rubin, Rav of K'hal Eitz Chaim of Hancock Park; HaRav Yochanan Hennig, Rosh Kollel of Kollel Rav Isaacsohn of Los Angeles; and many Chabad shluchim and rabbonim from all over Southern California.
The festive, exuberant street hakofos and dancing lasted until 3:00 p.m., at which point the Torah scroll was ushered into Congregation Levi Yitzchok, on whose premises KYY is held. Refreshments were then served indoors for the entire crowd, with the sizable children's contingent treated to Torah flags, nosh bags and an hour of circus-style entertainment by the aforementioned stilt-walking and juggling troupe.
A three-hour break then followed, with festivities resuming at 6:00 p.m. at the Moshe Ganz Hall at the Mogen Avrohom shul, where a fully catered sit-down Bar Mitzvah seudah was served.
And throughout it all, young Yaakov Rotenberg was seen with a unique smile on his face.
"The Torah was written in his honor, and what an honor it was," explains Rabbi Mendel Duchman, one of the driving forces behind the event. "It's been such a long time since L.A. has seen such a Kiddush Hashem with such simcha involved."
Thanks to two years of hard work and many communal efforts, a gifted young man—and an entire community—now feel they are part of one great whole.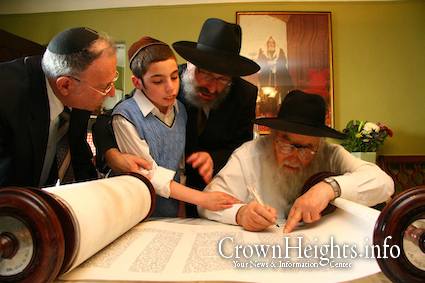 L.A. sofer Rabbi Dovid Mishulovin completes the Torah while Rabbi Rotenberg, son Yaakov and cousin Eliezer Wolf of Israel, who personally transported the Torah from Yerushalayim, look on.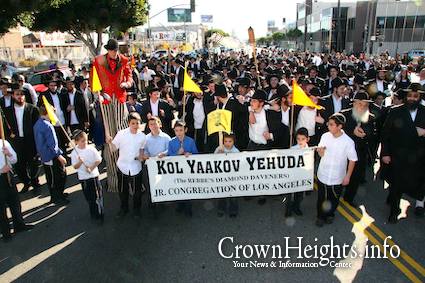 A group of KYY daveners lead the chupa procession up La Brea Blvd.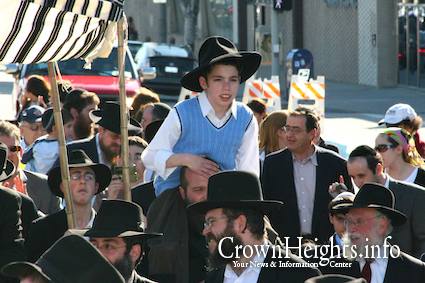 Yaakov Rotenberg in the midst of the lively festivities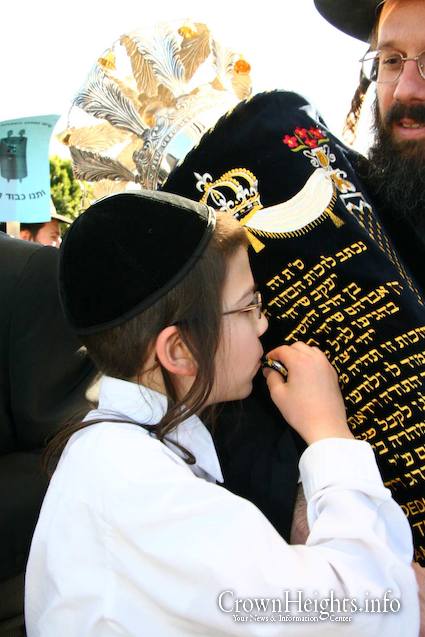 One young member of L.A.'s Chasidishe community joins another in participation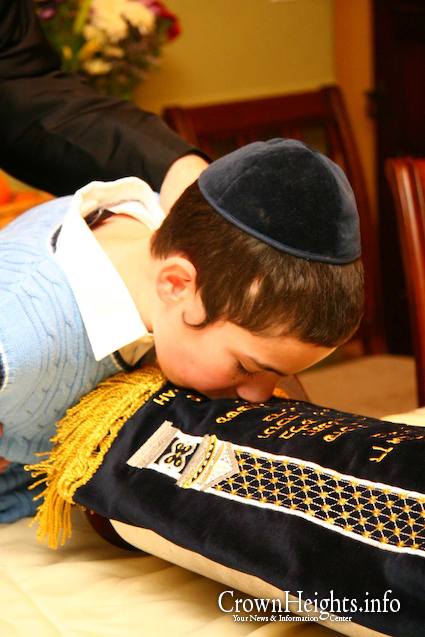 Upon conclusion of his new Torah scroll, Yaakov Rotenberg says it all.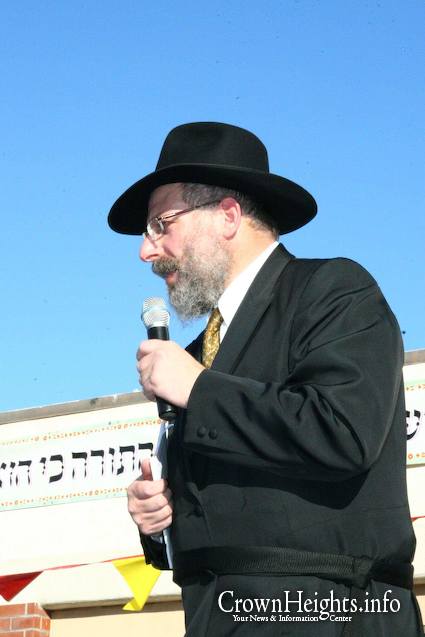 Rabbi Danny Rotenberg addresses the crowd from atop large band float (note banner in background).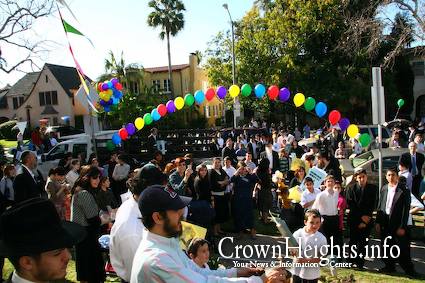 The crowd on Detroit St. awaits the parade's beginning.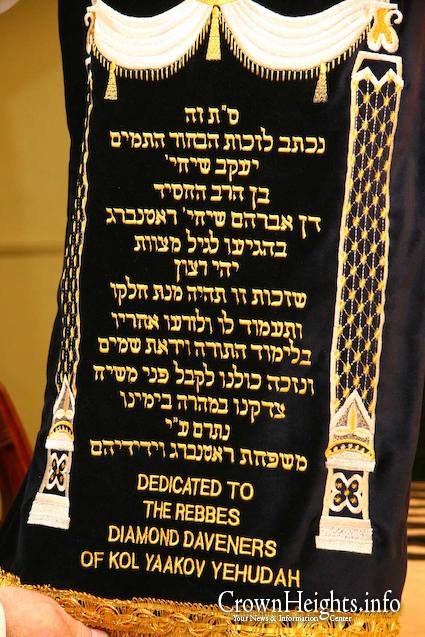 The Torah's new home.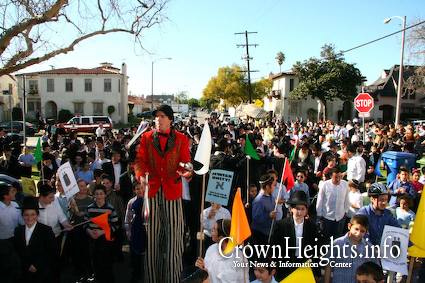 With live music blaring, the crowd sings and dances its way up La Brea Blvd.