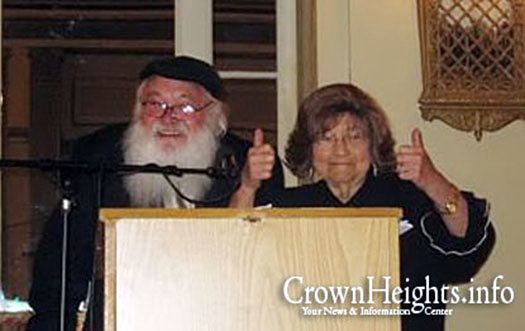 It is six years that Shimshon and Martha Stock are no longer with us. Reb Shimshon Stock known affectionately to all, as Shimshon Stock or Shimshon, was not just an ordinary individual but served as the address and an institution, to whom many individuals and families turned in their search for a shidduch, advice and guidance on sholom bayis and other life issues, or financial help. Click Here to see Part 1.
Another eventful episode
Shimshon married off two sisters from a wealthy family. When the first shidduch happened, her parents were Reform Jews were not pleased that their daughter was marrying a Chossid. The parents did not want to participate in any way. Shimshon visited their home, but to no avail. He then proceeded to prepare the wedding at his own expense. In the event, that the parents would ultimately decide to come, he made arrangements for an elegant affair.
Prior to the chupa, a stretch limousine pulled up in front of 770. The brother of the Kalla approached Shimshon and said to him, "I am going to kill you for what you did to my parents". Shimshon remained silent.
The Rebbe was then in his room. When the chupa took place, the Rebbe stood up from his seat and watched the chupa. Suddenly, Rabbi Groner, one of the Rebbe's secretaries, came out from the Rebbe's room and said to Shimshon, "Be careful how you behave at the wedding, don't answer back". Two minutes later, Rabbi Klein came out from the Rebbe's room and repeated the same message. As the Chosson and Kallah were walking from the chupa, the Rebbe came out and gave them a Brocho. The wedding went on as planned.
When the second daughter also became engaged to a Chossid, the parents' attitude did not change.
Today, both sisters are happily married and have, thank G-d, large families with children already on shlichus in prominent cities.
Shimshon merited to put together over three hundred Shidduchim. He also guided couples in their marriage and on many occasions delivered public lectures on sholom bayis and how to preserve a marriage. He sent out community-wide letters and contributed articles on this and other practical topics to the Nshei Newsletter. He believed that the cause of many marital problems was the lack of a proper parnossa. When a bochur would approach Shimshon for a shidduch or a yungerman would confront him for help with marital problems, Shimshon's popular remark was, "The four letter word for a successful life is WORK. Go out and get a good job"!
Shimshon looked out for families who were hurt by tragedies and in a sense, adopted them. He raised funds for underprivileged families so that they could stand independently on their own feet and not need to ask others for help.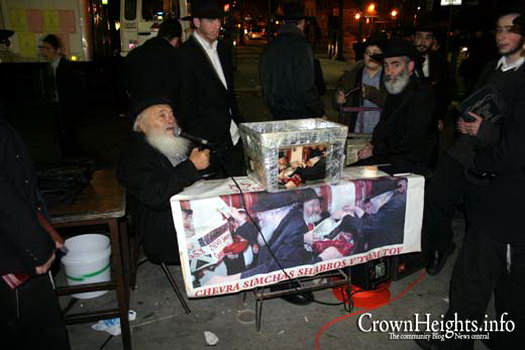 Chevra Simchas Shabbos v'Yom Tov (CSSY)
In 1977, Chevrah Simcha Shabbos V'Yom Tov was organized. This was in response to the Rebbe's Sicha on the second day of Rosh Hashana, in which he stated that for Pesach there is a Maos Chitim fund and Pesach last for only one week. However, in the month of Tishrei there are Rosh Hashanah, Yom Kippur, Sukkos, and Simchas Torah and there are no funds, as there is for Pesach. The Rebbe initiated a campaign for funding needy families. Immediately after Rosh Hashana, on Tzom Gedalia, the organization was created. Shimshon set up a table and began collecting money.
On every occasion, Shimshon himself would collect money with his big basket calling out "We need money". Before the Rebbe came down to the Farbrengen or before the Rebbe came into the shul for Slichos, Shimshon would make his rounds with his basket. Everybody considered it a privilege to throw money into the basket and did so gladly. In later years, regardless of his age and failing health, he continued carrying the load in a tireless way. Who does not remember visiting the Ohel on Yud Shvat, Erev Rosh Hashana or Gimel Tamuz and seeing Shimshon there with his basket. He would often sit through the entire night, hoping to collect the necessary funds.
An unforgettable scene is when Shimshon stood on line and came before the Rebbe with his basket. The Rebbe gave a broad smile lifted both his hands and threw dollars into the basket. Since then, a picture of this scene decorated the basket.
During a Farbrengen in 1980, when the Rebbe handed Shimshon a bottle of mashkeh, he referred to him as the Gabbai Tzedakah, charity collector of Crown Heights.
Shimshon related:
"We began with the distribution of food packages. In later years, this became difficult, and we sent money vouchers instead".
Martha related:
"The Rebbe would send a check for fifty dollars written in his own handwriting each month.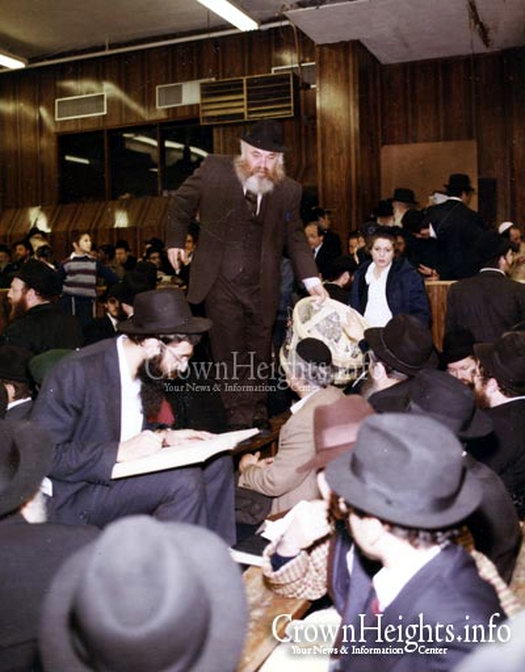 Chizuk Hashechuna
In the 1960's, people began selling their houses and moving out of the neighborhood. Shimshon was very concerned about the situation. He would come with a group of people to demonstrate in front of the person's new house in another neighborhood.
The real estate companies would use block buster tactics. They would mail notices informing people that their neighbor was in the process of selling his house. In this way they would convince people to sell their homes. Shimshon would demonstrate in front of their offices as well.
A few years ago, Shimshon saw a situation that had developed. People were flipping houses for financial gain. This caused difficulty for people who were unable to afford the cost of a home. Shimshon wrote an open letter to the whole community, telling them to stop this practice and to be more considerate to others.
On the 2nd of Adar I 1992, Pesha Leah Lapine HY"D was torn away from us. That night Shimshon drove through the neighborhood with a loudspeaker, calling for everyone to come out and demonstrate. The next morning he went through the neighborhood again and called for everyone to come to the levaya.
Connection and feeling towards the Rebbe
Shimshon had immense love for the Rebbe and concern for his welfare. It is difficult to adequately portray his deep feelings for the Rebbe, but let the following two anecdotes serve as examples:
On Sukkos 5752, the Rebbe stood for seven hours, observing every person who walked by and benched on his Esrog. He waited for the last person to have a chance to make the Brocho.  Shimshon felt uncomfortable with this. He approached the Rebbe and asked the Rebbe to sit down.
On Yud Alef Nissan 5751, Shimshon benched the Rebbe and added, "Rebbe, we need you, take care of yourself. You are the only one we have. The Rebbe responded, "You also have Hashem". Shimshon answered, "With Hashem I cannot talk".
Yehi Zichrom Boruch! May Shimshon and Martha's memory serve as an inspiration for awakening a concern and consideration for one another, and a positive feeling between the members of our community, in unity without bounds, physically and spiritually.
We should speedily witness "The ones who dwell in the dust will awaken and rejoice" with Reb Shimshon and Martha amongst them.