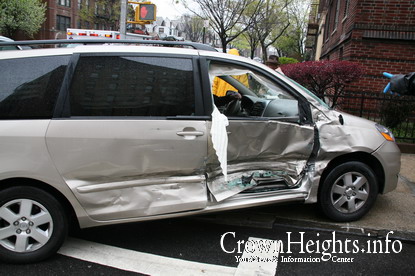 Crown Heights, Brooklyn –- The intersection Empire Boulevard and Troy Avenue in Crown Heights has seen a lot of accidents in the last two years. We have recorded over 15 accidents, all of which had injured passengers and/or pedestrians (L"A) and significant damage sustained to the vehicles involved.
Today another incident took place; an accident between a Minivan which attempted to make a left turn from Empire onto Troy and was struck by an ambulette van who was going straight on Empire. The minivan had a driver and four passengers onboard and was struck in the passenger side door and sliding door. The impact caused the Minivan to come to rest on the sidewalk. BH there were no pedestrians hit.
More pictures in the Extended Article.

The driver of the ambulette originally refused medical attention but later began complaining of back and neck pains, and the one passenger onboard complained of various pains ranging from her hips to her neck.
Hatzalah and FDNY EMS responded and treated the patients with assistance from Shomrim members who were on scene. During this incident there was another serious call that Hatzalah was handling and required two additional ambulances which came from the Williamsburg division and an ambulance that is on loan to the Crown Heights division in wake of the accident involving CH-1.
All the patients were transported to Kings County Hospital with moderate injuries non serious. They were taken to the hospital for further checkups and observation.